Zudek's low-charge ammonia chiller at pharmaceutical site is 20% more efficient than HFC alternative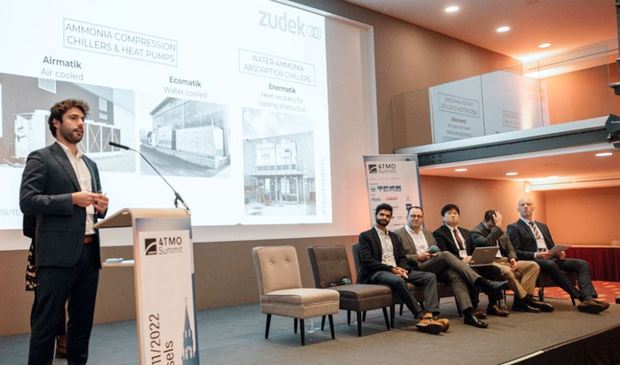 Italian manufacturer Zudek's air-cooled, low-charge ammonia/NH33 (R717) chiller has improved the energy efficiency ratio (EER) of a cooling system at a pharmaceutical site in Belgium, by 20%, compared to its previous HFC-based unit.
The Airmatik chiller, which contains 100kg (220lbs) of ammonia, has an EER of 3.6 at an ambient temperature of 40°C (104°F).
The site's previous chiller was a R134a unit that was installed in 2011. It provided glycol at 6°C (42.8°F) with 510kW (145TR) cooling capacity and had an EER of 3, said Van Erdeweghe during her presentation.
The chiller had reached its end of life, and the customer was looking for an outdoor, low-charge replacement unit that uses a low-GWP refrigerant. The new chiller needed to be highly efficient and reliable with a good total cost of ownership.
To meet these requirements, the pharmaceutical company chose Zudek's Airmatik chiller, which was installed and will be maintained by Equans. The new ammonia chiller provides glycol at 6°C with 650kW (184.8TR) cooling capacity and has a payback period of less than five years.
Zudek ammonia chillers
Founded in 1990, Zudek was one of the first manufacturers in Europe to produce a compact, low-charge ammonia chiller for industrial applications. According to the company's website, its air-cooled Airmatik compression chillers can offer temperatures of -25–12°C (13–53.6°F) with a cooling capacity of 0.2–1.1MW (56.9–312.8TR).
The compact plug-and-play unit can operate with 20–150kg (44–330lbs) of ammonia thanks to its aluminum microchannel condenser, which helps reduce the charge required.
Airmatik can operate in ambient temperatures of up to 45°C (113°F) without the need for adiabatic cooling, achieving a COP of 3 at 40°C and 6.2 at 15°C (59°F).
Zudek's water-cooled chiller, called Ecomatic, offers -45–20°C (-49–68°F) and a cooling capacity of up to 3MW (853TR).