U.S. retailers look towards CO2 transcritical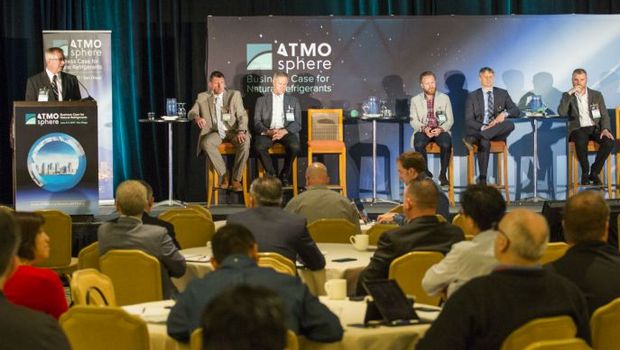 Whole Foods, Target, Hannaford Supermarkets and even the US Defense Commissary Agency (DeCA) have ramped up their natref use.
In a sign of the growing popularity of natural refrigerant-based HVAC&R systems in the United States, Whole Foods, Target, Hannaford Supermarkets and even the U.S. Defense Commissary Agency (DeCA) announced plans to ramp up their use of CO2 transcritical.
Tristam Coffin, director of sustainability and facilities at Whole Foods Market, told ATMOsphere America 2017 in San Diego, Calif. that his company would retrofit 15-30 stores per year with natural refrigerant-based systems.
The U.S. retailer currently boasts 22 natural refrigerant-based stores, 12 of which are all-natural refrigeration systems. Its system specs include transcritical CO2, hydrocarbon/CO2 cascades and HFC/CO2.
"We see the greatest opportunities in retrofits. Natural refrigerants have higher initial system costs compared to HFC and HFO-based DX systems, but prices are dropping quickly," Coffin told his San Diego audience.
A clear CO2 trend
Retail giant Target is also taking the CO2 transcritical plunge. "This year, we're installing our first ever CO2 TC systems – our first ever CO2 TC system will be in Marin City, CA, and our second will be in Minneapolis, MN," said Target's Paul Anderson.
"We'll evaluate the effectiveness of our CO2 transcritical systems for future use," he added.
The company has already embraced hydrocarbons in a big way. "Most stores in our chain now have some kind of hydrocarbon technology in them […]. Well over half of our stores utliise natural refrigerants," Anderson declared.
Contractor AAA Refrigeration Service sees increased opportunities for them in CO2 technology. "We'll begin installing our fifth CO2 TC store soon," said Peter Savage from the company's New York office.
Currently the contractor has five CO2 stores – four transcritical and one cascade – based in the New York/New Jersey area.
"We're education-based. We have in-house training to help ease concerns regarding the transition from standard DX or glycol systems to high-pressure CO2 refrigeration systems," Savage said.
Europe pushing the U.S. forward
Harrison Horning of Hannaford Supermarkets argued that the food retail sector is moving fast to CO2 transcritical technology.
"[Our Maine store] was the first in the U.S. to [retrofit a] CO2 transcritical system," Horning told the audience. The store is 50,000 square foot and opened in 1989.
"It met the criteria for a retrofit to CO2 TC, supporting the corporate goals [of European parent company Ahold Delhaize] of ODS [ozone-depleting substances] phase-out and GHG [greenhouse gas] emission reduction," he said.
Paul Alway, formerly of UK retail giant M&S and Tesco, is bringing his natural refrigerant experience to bear at his new home, the AB Group.
"CO2 and natural refrigerants are business as usual for M&S and Tesco now," Alway told the retail panel at ATMO America.
He highlighted the reliability of new natural refrigerant systems as a major advantage outweighing any cost concerns. "You have to make peace with the idea that natural refrigerant systems cost more than HFC-based systems. By chasing cost parity, you risk engineering systems to the point that they are no longer reliable," he argued.
John Stuit of the Defense Commissary Agency (DeCA) – responsible for supermarkets on U.S. military bases worldwide – insisted that CO2 can perform well in warm ambient climates.
DeCA has natural refrigerant systems in five locations, including at Edwards Air Force Base in the Mojave Desert, CA – "If we can make CO2 transcritical work at Edwards Air Force Base, we can make it work anywhere," Stuit said.