30 UK businesses, WWF urge UK to adopt heat pumps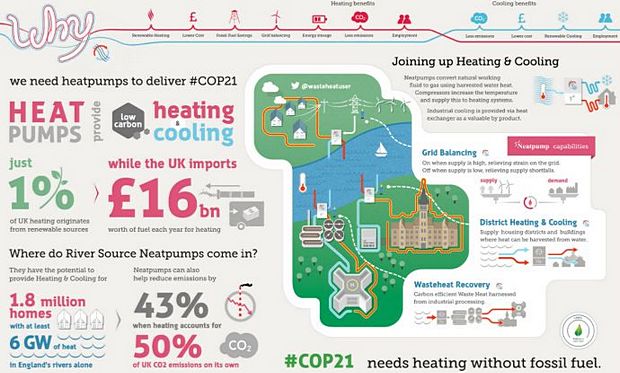 The coalition wrote to the government early this week in advance of a UK climate plan.
Ahead of the publication by the UK government of its 'Clean Growth Plan', 30 UK businesses in the construction, heat and energy sector wrote to the Secretary of State for Business, Energy and Industrial Strategy, the Rt. Hon. Greg Clark MP, calling for climate change to be tackled by adopting heat pumps and moving away from gas boilers.
The letter, signed by companies like Star Renewable Energy (SRE), Arup and Kingfisher, was coordinated by WWF.
The UK's 'Clean Growth Plan' seeks to reduce the climate impact of homes and offices and is part of a long-awaited strategy on reducing greenhouse gas (GHG) emissions. The government is committed to reducing GHG emissions by 57% by 2030.
The signatories of the letter assert that previous government schemes to tackle the substantial amount of UK energy consumption that goes on heating, estimated to be 40%, have failed.
The coalition is urging the UK minister to support the use of large-scale heat pumps, which often use ammonia. This would push down gas consumption and therefore reduce the carbon footprint produced by buildings.
Dave Pearson, director of Star Renewable Energy, which has led a number of projects in Scotland using ammonia heat pumps for district heating, said: "Government support for low-carbon heat pumps and district heating networks is evidenced by the Renewable Heat Incentive, but there is little downward pressure on the use of gas, so why will businesses and the public opt for change when they don't need to?"
"To decarbonise heat will help maximise the UK's economic opportunities from the sector, but unless more is done to make gas less attractive, no amount of support will overcome the apathetic approach from commercial users we have seen for seven years," Pearson added.
"It is worrying how much attention is paid to gas. This has led to the stepping-stone culture where many believe that we need to keep finding complex ways of burning gas such as local [combined heat and power plants], which is rapidly approaching parity with a simple gas boiler in terms of CO2 footprint. Hardly 2020 ready, never mind 2050 as previous installations are actually increasing CO2 emissions year on year now the grid has decarbonised so dramatically."