Turbo Air near end of R290 conversion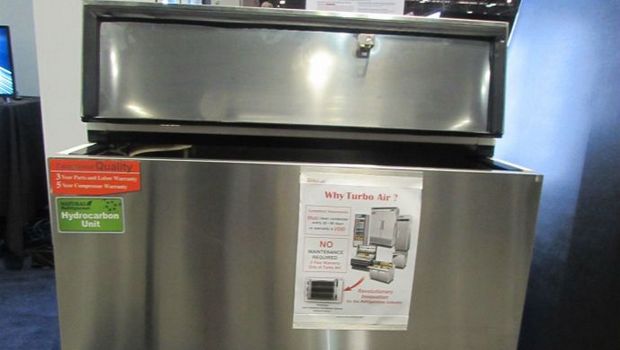 But the company is finding slow uptake in the U.S. as customers don't see a sufficient number of trained propane technicians.
Turbo Air, a refrigeration manufacturer based in Long Beach, Calif., is almost finished developing propane versions of its foodservice equipment at its plants in the U.S., South Korea and China, though it sees demand for hydrocarbon units low in the U.S.
The company operates one manufacturing plant in Grand Prairie, Texas, one in China and two in South Korea. "We have about 200 R290 units, but a few under-counter [hydrocarbon] units still don't meet the [Department of Energy's] 2017 standards, so we are still working on those," said Nelson Lee, director of operations, Texaking, Turbo King's Texas division.
The propane models are 15% to 35% more efficient than their HFC counterparts, said Lee.
But Turbo Air still offers HFC units that meet DOE's new standards because "at this point 95% of customers still prefer current specs [HFCs]," said Lee. "Only a few chain customers want R290 units as a sample to try it out and see what happens." Still, he added, "eventually they will need to go for R290, so it's better to switch as soon as possible."
One of the stumbling blocks for some foodservice companies is that their third-party maintenance technicians don't know how to service R290 units, Lee said. Turbo Air has trained its 22 in-house technicians spread across 14 branches in the U.S., but it has not yet started training third-party independent technicians, which it plans to do. "Most of the guys in the trade are not aware of R290 equipment," Lee said.
While HFC units that meet the new DOE efficiency standard can still be used, that won't be the case in 2019 when HFCs like R404A and R507A will start to be delisted in commercial refrigeration cases by the U.S. Environmental Protection Agency. To make that point at its booth at the NAFEM Show last month, Turbo Air displayed banners and handed out fliers stating, "It is not an option, it is mandatory! Natural Refrigerants."
However, many equipment dealers are willing to continue promoting HFC equipment until the delisting begins, noted Lee. "We have 720 dealers nationwide, but they are not ready to explain to restaurant owners what propane is."