True's new cases far surpass U.S. energy regs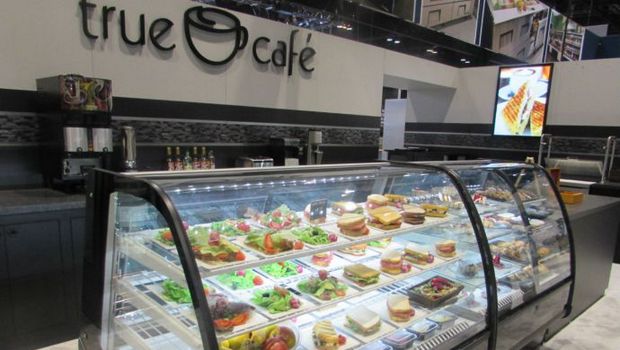 The expanded line of propane refrigerated cabinets use up to 60% less energy than the DOE's mandated level.
True Manufacturing showcased its expanded line of propane-based refrigerated merchandising display cases – many of them far exceeding the U.S. Department of Energy's latest energy efficiency requirements – at the National Restaurant Association (NRA) Show this week at McCormick Place in Chicago.
"Our display cabinets have amazing efficiency numbers," said Todd Washburn, director of sales & marketing, retail division, for O'Fallon, Mo.-based True, adding that the cabinets were completely redesigned as a "ground-up new product."
The refrigerated and "dual-zone" cabinets (split between refrigerated and room temperature) each come in glass and mirror ends, between 36-in. and 77-in in width, for a total of 14 models. The four glass-end refrigerated cabinets are each at least 50% lower in energy consumption (kWh/day) than the maximum allowable value set by the DOE as of March 27, 2017. For example, the DOE maximum for the TDM-R-48-GE model is 13.64 kWh/day, while True has designed the unit to consume 5.53 kWh/day, or 59.5% less.
The energy savings comes from the use of propane refrigerant, as well as LED lighting, ECM motors, and the proper "balancing of the refrigeration system," said Washburn.
True introduced the self-contained, air-cooled display cases a year ago, but has expanded to "a full product line this year," he said. They are suited for large and small supermarkets in departments like bakery and deli.
The cases are also designed to keep the temperature of products within a tight range by managing the air flow. "It stabilizes the product at the right temperature," said Washburn. "That's what the retailer cares about."
Many of True's self-contained units not only exceed the DOE energy requirements, but also meet the EPA's more stringent Energy Star 4.0 standard. True is now reviewing some of the equipment on the edge of meeting Energy Star to see if "we can squeeze any more efficiency out of it for Energy Star," he said.
Washburn noted that more retailers are installing self-contained propane cases, in part because they offer more flexibility. "It's easier to add units – you don't have to plug them into a rack," Washburn said. "And they're efficient." It's possible to now do equip an entire supermarket with only self-contained cases, and some retailers are doing so while others are moving in that direction, he said.
True has been a leader in the conversion of stand-along display cases from HFCs to propane, with about 80% of its foodservice and food retail coolers now using R290. Many other OEMs, including Beverage Air, Traulsen and Welbilt, have followed True's lead and begun offering propane-based cases, which were also on display at the NRA Show.