Trane Expands its Sintesis™ Balance Portfolio, Now Offering Multi-Pipe Units with R454B Refrigerant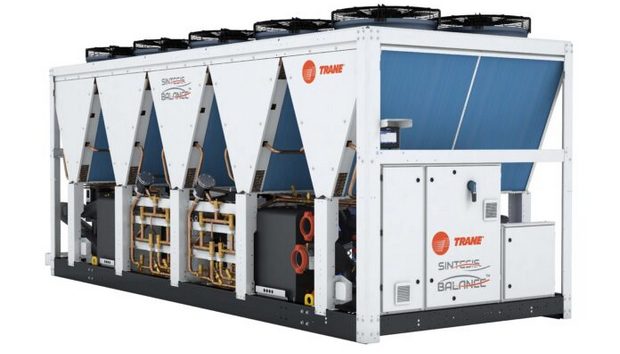 Trane nnounced it is expanding its Sintesis™ Balance CMAF portfolio of multi-pipe units for simultaneous cooling and heating. The new models are now available with R-454B refrigerant in capacities ranging from 150 to 1,400 kilowatts (kW). The units deliver better cooling and heating efficiencies, improved operating maps and lower environmental impact compared to equivalent models with R-410A.
Trane Sintesis™ Balance CMAF multi-pipe units offer building owners of multifunctional facilities like office buildings, hospitals, theatres and hotels reduced investment costs, better use of floor space and lower total operating expenses while significantly improving the sustainability of their operations. Using renewable and recovered energy to produce hot water, the Trane Sintesis™ Balance CMAF can replace the existing fossil-fuel boiler and chiller system to deliver both chilled and hot water for the entire building with no direct greenhouse gas emissions.
"With this new generation of air-sourced multi-pipe units, Trane is again raising the bar in sustainable, efficient and flexible delivery of cooling and heating in buildings," said Louis Rompre, portfolio manager at Trane in Europe, Middle East and Africa. "Our emission-free Sintesis™ Balance systems leverage renewable technology, full heat recovery and repurposing of that heat, clearing the pathway to reducing direct use of fossil fuels. By adding the R-454B refrigerant, we further increased the units' efficiencies and lowered annual operating costs, bringing significant savings to the building owners' bottom lines."
Trane offers the low global warming potential (GWP) R-454B refrigerant across its entire portfolio of scroll compressor chillers, heat pumps, multi-pipe units and rooftops. The R-454B refrigerant, a non-ozone depleting HFO/HFC1 blend, has a GWP level of 467, the lowest among the refrigerants available today for scroll compressor technology. R-454B offers 76% reduction in direct GWP impact against R-410A and 34% reduction against R-32 refrigerant. This answers customers' need for a sustainable, highly efficient refrigerant option that future proofs their investment and mitigates the increasing tax rates put on refrigerants across Europe.