Thermo King boosts Spar fleet with R452A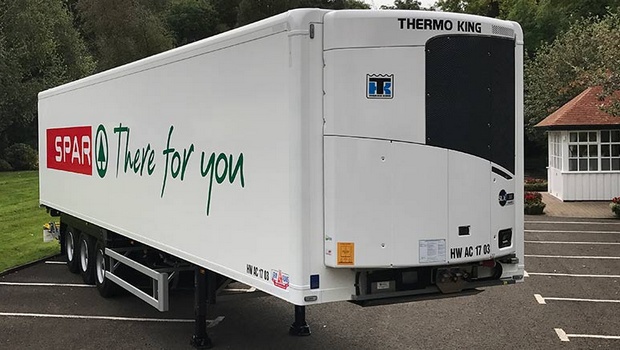 Henderson Group, owners of the Spar, Eurospar, ViVo, ViVoXtra and ViVo Essentials grocery franchises, has upgraded its refrigerated fleet with Thermo King SLXi units using lower GWP refrigerant R452A.
The family-owned Henderson Group have been distributing food and grocery-related products to the convenience retail sector for over 100 years. It is now the largest operator of its kind in the country, supplying over 400 stores.
The Thermo King SLXi 300 Whisper units feature next-generation, lower GWP R452A refrigerant, a lower GWP alternative to R404A. Its GWP of 2140 is virtually half that of R404A.
The new Thermo King SLXi 300 Whisper units will help Henderson Group plan their logistics of temperature sensitive products to their retailers more efficiently thanks to the telematics and communication capabilities, lower fuel consumption and enhanced temperature management options. The Whisper noise attenuating kit reduces the sound levels of the units, which allows Henderson Group to further minimise the disturbance during urban distribution and deliveries.
"Thermo King is Spar International's preferred supplier and thanks to our complete portfolio of products for all refrigerated transport applications, our units can be seen on their fleets around the globe," said Alain van Schaik, strategic account manager at Thermo King. "Thermo King works closely with Spar International through its global network delivering solutions like the SLXi units in Northern Ireland, Frigoblock electric units in Austria, CryoTech liquid carbon dioxide technology in Norway or T-Series truck units in the Middle East."