Thailand sees strong interest in advanced ammonia systems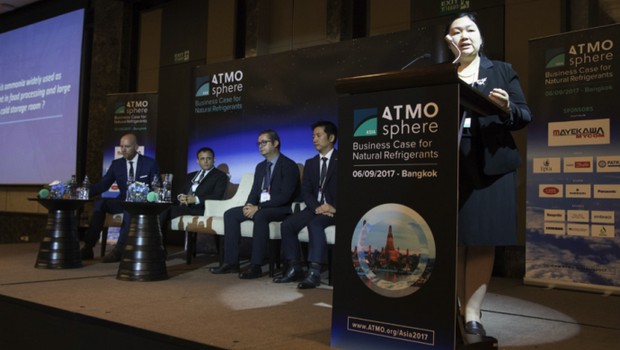 As HFCs in Southeast Asia are phased down, interest in low-charge, secondary and cascade ammonia systems is increasing among industrial end users.
Ever stricter safety requirements and a greater push towards environmental responsibility and energy efficiency are triggering interest in advanced ammonia systems for industrial refrigeration in Southeast Asia, heard participants in ATMOsphere Asia 2017, held in Bangkok earlier this month.
A presentation by Thailand-based industrial refrigeration system supplier Patkol captured the growth potential for ammonia systems in Thailand.
Pattra Chotchuangchutchaval, senior sales engineer for Patkol, discussed the widespread use of ammonia in Thailand and the reasons why it is the most popular solution for large industrial systems in the country.
"In Thailand today, ammonia seems to be the very best solution especially in large industrial systems," Chotchuangchutchaval said.
The Patkol engineer stated that ammonia is used widely in Thailand, especially in cold store and food processing applications. She also discussed the main advantages of ammonia-based systems.
"First things first, we know that it is a natural refrigerant with a Global Warming Potential (GWP) and Ozone Depleting Potential (ODP) value of zero," she said.
"Secondly, the advantage that ammonia gives us is the coefficient of performance (COP). The COP or efficiency of systems that use ammonia is very high. I think that those are the two biggest reasons why ammonia is very popular in Thailand."
Chotchuangchutchaval detailed how low-charge ammonia systems helped limit the amount of ammonia needed in the system and the ability to restrict it to machine rooms.
Asked whether there was strong interest among end users in Thailand to move to newer types of ammonia systems that are more efficient and increase safety, Chotchuangchutchaval replied: "Yes, certainly."
Speakers during the session nonetheless emphasised the importance of following strict standards and safety practices when using these systems.
Boost end-user training
Kosuke Yamamoto of Mayekawa, whose NewTon NH3/CO2 systems are already widely used in Southeast Asia, stressed the need for proper training.
"One of the difficulties with many end users is the safety issue, especially with the use of ammonia," said Yamamoto.
"They have some difficulty training their engineers. We need constant training for all those customers and our staff as well. This is one of the barriers that we face."
Chotchuangchutchaval of Patkol added to this by saying: "To make ammonia systems more safe, the systems must be designed based on global standards. If they are designed correctly, they won't be harmful anymore."
"Also, all of the staff operating the ammonia plant must be trained. In Thailand, all of the staff is trained to operate the ammonia plant," she said.
Thakur Anil, senior marketing manager for Danfoss, rounded off the market trends session by providing attendees with a historical perspective of refrigerant use globally and projected the amount of market share natural refrigerants would have in the future.
"It looks like the adoption of naturals is restarting now. As we go forward, we shall see in the next 20-30 years, natural refrigerants should represent over 40% of all refrigerants in use," said Anil.