Tecumseh unveils slew of hydrocarbon compressors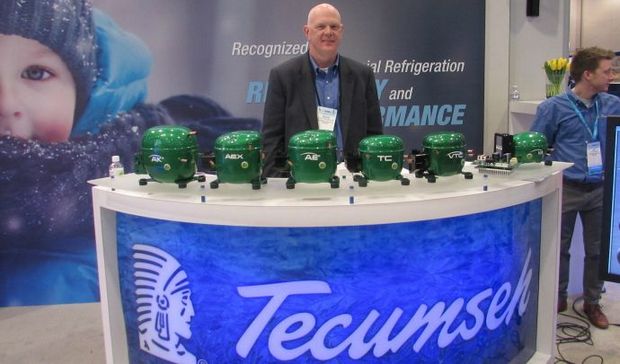 Propane remains the company's preference for fractional-horsepower compressors.
At a press conference held yesterday at AHR Expo in Las Vegas, Tecumseh Products Company unveiled several new fractional-horsepower compressors designed for hydrocarbon and other refrigerants, while maintaining its preference for propane (R290) for stand-alone commercial refrigeration equipment with capacities less than ½ HP.
"We are reinvesting in our core products, which are our fractional horsepower compressors," said Douglas Murdock, president and CEO of Tecumseh, based in Ann Arbor, Mich. "Tecumseh's back in the game."
The new compressors include the AE2, TC and VA units, which have already been launched, and the AK2, AEX and VTC units, which will be launched in the next six months. The compressors, which range in horsepower from 1/5 to 1.25, can all use propane, while the TC and VA compressors can also employ isobutane (R600a).
In addition, all of the new commercial refrigeration compressors are being incorporated into condensing units, which will be launched later this year.
The AK2 and AEX are more energy efficient than their predecessors, said Bill Merritt, Tecumseh's vice-president, global product management and marketing.
The VTC and VA units incorporate variable-speed technology, which will be added to the other compressors next year. "When you look at energy requirements, you are going to run out of efficiency with just single-speed," said Merritt.