Systemes LMP installing CO2 systems in industrial plants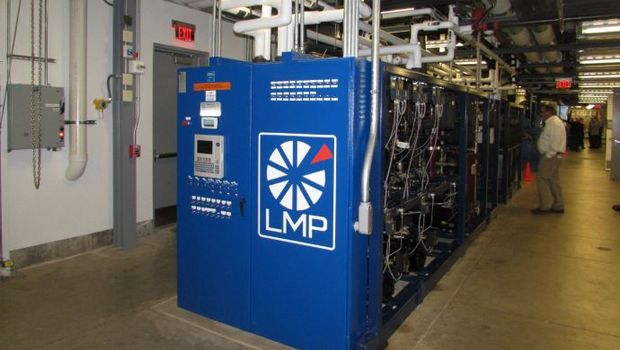 Systemes LMP, the Canadian manufacturer of transcritical CO2 systems for supermarkets, has begun installing these systems in cold storage/food processing locations.
The OEM has done six transcritical installations at industrial plants this year, said Jeff Gingras, president, Systemes LMP, based in Laval, Quebec. Two plants were equipped with CO2 systems last year.
"The Quebec government is giving grants for CO2 systems that makes up 80% of the cost premium," he said. He estimated the premium over an ammonia system to be 15%-20%, which he expects to drop.
While CO2 has been employed in industrial refrigeration in ammonia/CO2 cascade systems, pure CO2 transcritical systems are a fairly uncommon technology in industrial locations in North America.
Systemes LMP and Hussmann (now owned by Panasonic) have partnered in marketing transcritical CO2 systems to supermarkets since September 2014. Systemes LMP's transcritical systems feature mechanical subcooling elements that enable them operate efficiently in warm climates.