Supermarkets gear up for new regulations on common refrigerants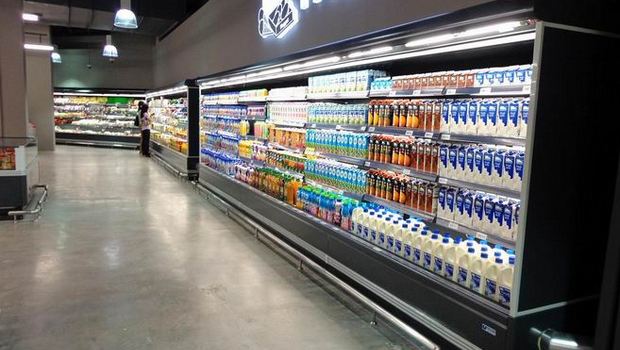 Supermarket owners and operators across Europe are getting to grips with the implications of new EU Regulations on so-called F-Gases (No. 517/2014), which include common refrigerants used in store refrigeration and air conditioning systems. We offer an overview of the regulations and what supermarkets should be doing to safeguard their businesses, provided by leading compressor manufacturer Bitzer.
There has been concern for some time over the global warming potential of certain common refrigerants, used extensively in food refrigeration systems and air conditioning.
One family of gases in particular has come under the spotlight, HFCs, due to their long atmospheric lifetime and potential impact on global warming.
HFC refrigerants are commonly used in retail chillers and freezers, and in store air conditioning systems. Ironically, HFCs were introduced as more environmentally friendly alternatives to replace ozone-damaging CFC and HCFC-based refrigerants, which were banned a number of years ago.
While the new generation of HFCs do not harm the ozone layer, their high global warming potential (GWP) has emerged as a serious Achilles heel.
This has in fact proved to be a fatal flaw, and, in response, the EU recently adopted tough new regulations designed to reduce the use of the most intensely global warming HFC refrigerants in the medium term, and eliminate them in the long-term.
For businesses which depend on these refrigerants, such as supermarkets and food and drink manufacturers, it is important to be aware of the new responsibilities placed on those who own and operate equipment that uses HFCs.
In addition, given the significant capital cost of replacing refrigeration and air conditioning equipment, it is important to be aware of the implications of the new regulatory framework around F-Gases, in particular the reduction in availability of high GWP HFC refrigerants over time, and the business implications of refrigerant choice, both now and in the future.
Complying with the regulations involves a number of mandatory responsibilities. These are summarised below:
Complying with the revised EU F-Gas Regulation
Purchase of new equipment
Comply with various bans on the use of

HFC

s in new commercial equipment (new requirement);
Take account of service ban when selecting refrigerants (new requirement)
Take account of

HFC

phase-down when selecting refrigerants (new requirement)
Operation of existing equipment
Mandatory leak checks and repairs
Use new CO2 equivalent (CO2e) size thresholds for mandatory leak checks;
Use new CO2e size thresholds for automatic leak detection (new requirement);
Keep records about all refrigeration equipment using

HFC

refrigerants;
Service ban, affecting maintenance of existing high

GWP

systems − g.

HFC

R404A (new requirement);
Use certified technicians for leak checking and refrigerant handling operations;
End-of-life requirements;
Mandatory recovery of refrigerant by certified technicians.
The regulations governing the purchase of new equipment depend on the type and size of refrigeration plant involved. Most importantly for supermarkets, the use of very high GWP refrigerants will be banned in commercial applications from 2020.
This will mainly affect R404A and R507A, commonly used refrigerants with a very high global warming potential. However, due to the phase-down requirements and the related refrigerant quota system, a severe shortage of these refrigerants can already be expected in 2018. In consequence R404A and R507A should not be used any more in new equipment.
In addition, use of relatively modest GWP refrigerants (less than 1500) will be banned for hermetically sealed commercial refrigerators and freezers from 2022. This will mainly affect the use of R134a, a very common refrigerant in near universal use. There are further bans in relation to central refrigeration plant with capacities above a certain size. There are also service bans on the use of certain high GWP refrigerants in the future, which could restrict the longevity and operational working life of plant.
These looming restrictions are driving the present search for safe and efficient alternatives, with carbon dioxide, HFO refrigerants and, to a lesser extent, hydrocarbons, leading the way as the most viable current alternatives for future-proof cooling.
In addition to the bans on refrigerant usage, another factor to take into account in relation to purchasing decisions is the impact of the above mentioned HFC phase-down on refrigerant supply levels and costs. Under the regulation, the quantity of HFCs that can be offered for sale in the EU must be reduced by 79per cent by 2030.
This sounds a long way off, but means that equipment purchased now or in the near future will still be operational when supplies of relevant refrigerant are dwindling dramatically, with costs escalating many times the current price. For this reason, it makes sense for end users to ensure equipment purchased from now on operates on refrigerant with the lowest possible GWP rating.
In addition to the implications for purchase of new plant, the F-Gas Regulation includes a number of requirements that impact the use and maintenance of existing refrigeration plant containing HFC refrigerants.
The precise requirements depend on the type and capacity of equipment involved, but broadly relate to leak prevention, record keeping, service ban, and use of trained technicians.
On leakage, it is illegal to intentionally release F-Gases into the atmosphere, and owners of plant must take all practicable measures to minimise leakage. If a leak occurs, steps must be taken immediately to remedy the problem.
Those operating HFC-containing equipment must carry out mandatory leak tests on equipment above a certain size and global warming potency. This means that, in a change from previous requirements, even relatively small systems must now be leak-tested regularly if they contain high GWP refrigerants. For example, the charge size threshold for R404A is just 1.3kg.
For larger systems, automated leak detection must be installed. In the case of R404A refrigeration systems, the new threshold for automatic leak detection is reduced to 127 kg, a significant reduction from the previous threshold. To ensure they are working properly, automatic leak detection systems must be tested at least once every 12 months.
It is also a mandatory requirement that end users keep detailed records on every item of equipment subject to a mandatory leak check, and that records are available for inspection at all times.
As can be seen, the revised F-Gas Regulation represents a significant tightening of control on the previous requirements, and places substantial additional responsibilities on owners of F-Gas containing equipment. Supermarkets and the food and drink supply sector are in many ways at the forefront of this.
The best approach is to future-proof your business from legislative change, by investing in equipment which runs on refrigerant with the lowest possible GWP, subject of course to it being safe and efficient. There is currently a lot of conflicting advice in the market, as proponents of the various alternatives seek to promote their own preferred solution.
Reputable suppliers, such as leading compressor manufacturer BITZER, can provide independent advice on refrigerant choice, based on objective assessments and field trials, and highlight the trade-offs that might be involved. (See Further Information box with links below).
This is important to take into account, as energy penalties with less efficient refrigerants and/or system solutions may negate their otherwise excellent environmental benefits, with additional but hidden costs to the planet and the end user's bottom line.
In this connection it is worth mentioning the Ecodesign Regulations (already in place for some product categories and on the way for others), which define legally binding minimum energy performance standards. For further details, follow the links in the panel below.