California, other states vow to lead as Trump exits Paris climate pact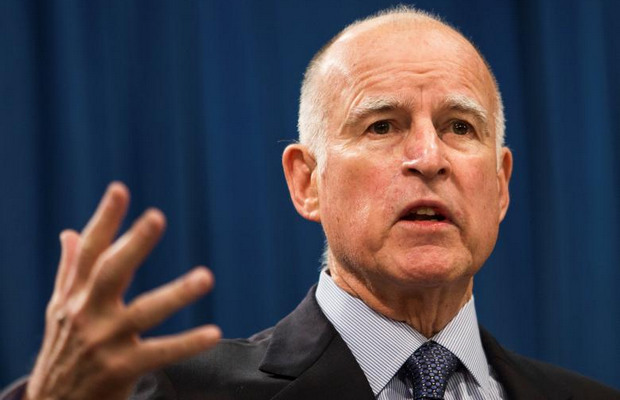 State governors and city mayors were quick to claim the mantle of U.S. leadership in fighting climate change after President Donald Trump said on Thursday the country will pull out of the Paris climate agreement.
The officials said they collectively could show the international community that the United States remained committed to cutting the emissions that scientists blame for global warming. Governors and analysts cited moves including California's effort to get 100 percent of its electricity from renewable sources, northeast states potentially tightening maximum allowances for carbon and Oregon working on measures to put a price on carbon.
"There is a pathway here where the rest of America in reaction to, really, what is an insane decision by president Trump, takes the kind of steps needed," California Governor Jerry Brown told Reuters.
More states could follow California and neighboring Oregon's lead on low-carbon fuel standards, expand zero emission vehicle requirements and potentially merge carbon measures such as taxes, caps and trading, the governors and analysts said.
"There is a possibility over time that states could increase their cap-and-trade markets and merge them, including across national boundaries, as has happened with Quebec and California," Washington state Governor Jay Inslee said in an interview with Reuters, referring to regional carbon trading systems already in place in the Northeast and West.
Inslee, Brown and New York Governor Andrew Cuomo on Thursday announced the creation of a "climate alliance" for states committed to the Paris goals.
Trump announced his decision to withdraw from the Paris accord, saying the its requirement to cut U.S. emission of carbon dioxide threatened millions of jobs and productivity. He said he would start a process that could last four years to withdraw from the deal, which has been signed by almost every other nation on Earth. [L1N1IY0MV]
The president used declining coal industry jobs as an example of his concern that the climate pledge was hurting U.S. workers. But critics of his move pointed out that renewable energy industries, particularly solar, are creating hundreds of thousands of jobs – far more than currently exist in coal.
"This decision won't bring back coal jobs in the United States. That train has left the station," California state senate leader Kevin de Leon, a Democrat, said of Trump's withdrawal. "Clean energy is the future."
De Leon introduced a bill that would require California get 100 percent of its retail electricity from renewables by 2045, and it passed the state senate on Wednesday.
HEADED

TO

CHINA

California Governor Brown is heading to China on Friday to lead a conference of states and other "subnational" actors making voluntary commitments to cut greenhouse grasses.

The group, the "Under2" coalition, which takes its name from the Paris accord's effort to keep global warming below 2 degrees Celsius, has grown to 170 jurisdictions representing more than a third of the global economy over the past two years – including 10 states in the United States.

Brown said he was exploring the possibility of integrating California and Chinese provincial carbon trading systems. That would be a "heavy lift" he said, but "I am going to discuss that with the highest officials in China this week."

Smaller states also aim to lead by example.

Connecticut Department of Energy and Environmental Protection chief Rob Klee said he was working on a program to build electric vehicle infrastructure. "What we believe we can do in Connecticut is show the policies that can work," he said.

The U.S. commitment under Paris of cutting emissions by 26 percent to 28 percent below 2005 levels by 2025 is ambitious, though. John Larsen of Rhodium Group estimated the United States under Trump policies was on track for a 15 percent to 19 percent reduction.

"At this stage in the game, new experimentation at the state level with new policy options could be really, really important to not just meeting Paris but driving emissions down in the long run," he said.

Several cities said that they would work toward reaching the goal. "We are increasing investments in renewable energy and energy efficiency. We will buy and create more demand for electric cars and trucks," a group of more than 50 mayors from cities ranging from Houston, Texas to New Orleans, Louisiana said in a statement on Thursday.

The various coalitions of states and cities said that they had the heft to command international attention.

"Clearly California is sort of the big dog in this pack, but our ability to work with California and Washington and British Columbia has a huge impact," Oregon Governor Kate Brown told Reuters.