SandenVendo ready to push CO2 in Europe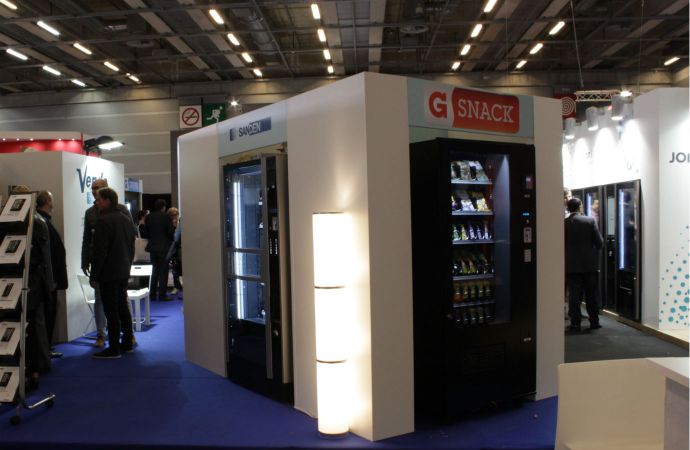 The vending division of Sanden Europe is pushing its climate-friendly products to customers at Vending Paris this week.
"We hope to move the vending market to CO2 in Europe," – Steven Van Holsbeek, sales manager at the Benelux branch of SandenVendo, a division of Sanden Europe, said today at Vending Paris, taking place near Porte de Versailles in the French capital on 15-17 March.
Helping to move the European refrigerated vending market towards climate-friendly technology options is not without its challenges for this CO2-committed company.
Indeed, at Vending Paris, SandenVendo is advertising but not exhibiting its line of CO2-cooled food and drinks vending machines.
"The European vending market is very conservative. Customers are less familiar with CO2 technology", Van Holsbeek noted.
He contrasts this with the Sanden Corporation's experience in Japan, where "customers are more familiar with CO2 technology – largely thanks to the influence of big end users like Coca-Cola," he pointed out.
In Japan, the Coca-Cola Company is currently committed to using only CO2 in its vending machines and relies on Sanden equipment to achieve the switch there.
EU F-Gas Regulation, customer demand could trigger change
One thing is clear: vending machine manufacturers will eventually have to switch to HFC alternatives in Europe. The new EU F-Gas Regulation bans the use of HFCs in new plug-in commercial refrigeration equipment as of 2022.
"We hope the F-Gas Regulation will trigger a change soon," SandenVendo's Van Holsbeek said.
"If a big end user decides to start using CO2 across all their vending machines, this will drive the market by helping to reduce costs," he said.