RV Cooling touts low-charge-ammonia chiller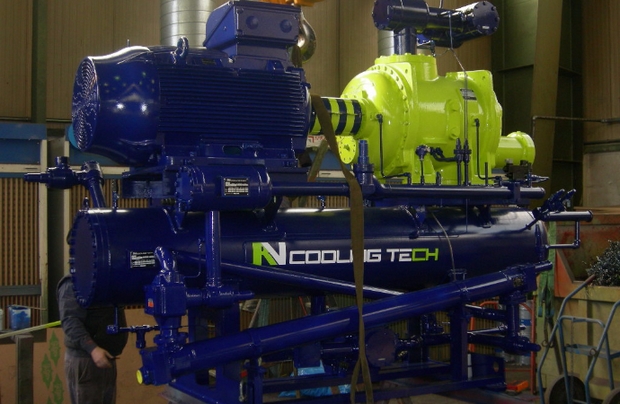 Spanish manufacturer's NH3/glycol unit can be stationed outside of industrial facilities.
Following the example of U.S. manufacturers like NXTCOLD, Evapco and Azane, Spanish equipment manufacturer RV Cooling Tech, a division of Sarriena Group, is marketing a low-charge-ammonia unit called the Ecopack chiller for industrial/cold storage applications.
The Ecopack, which uses glycol as a secondary refrigerant, is equipped with a safety housing that makes it suitable for outdoor installations and optionally suppied with "neutralizer" to dissolve any ammonia leak.
The plug-and-play unit offers a cooling capacity ranging from 100 kW to 1,500 kW.
"At 1,000 kW, the ammonia charge would be about 360 lbs (163.29 Kg)," said Jon Careaga, sales manager, director commercial, for RV Cooling, at the company's Chillventa 2016 booth. RV Cooling was one of the few Chillventa exhibitors with a low-charge ammonia system. The maximum ammonia charge in the chiller would be about 500 lbs (226.80 Kg).
Founded in 2012, RV Cooling specializes in making screw compressor packages and compact refrigeration chillers. It markets to industrial end users in Europe, South America and Africa, with an eye on branching into North America, said Careaga. "We're looking for a partner for the U.S."
RV Cooling prides itself on making "almost custom-made" systems that "fit the need of the customers and take into account what they already have," said Careaga.