The 2nd annual Refrigerant Week Danfoss from September 24 to 28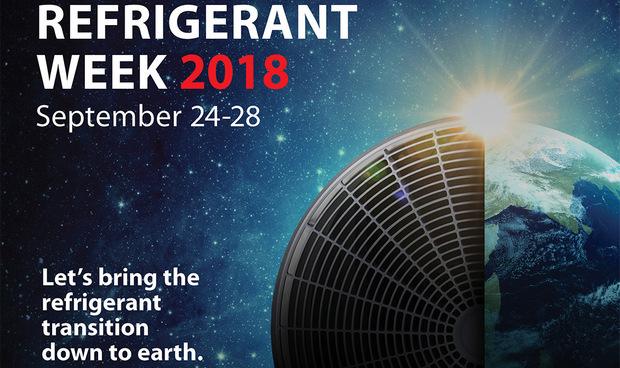 As the price of high Global Warming Potential (GWP) refrigerants increases and regulations become tougher, Danfoss is continuing its Refrigerant Week initiative to help industry professionals and decision-makers make the transition to lower-GWP refrigerants. Refrigerant Week, an official affiliate of Climate Week NYC, will take place from September 24th to 28th and feature webinars, tools, resources, and local events aimed at promoting and enabling lower-GWP solutions.
Refrigerant Week brings the use of alternative refrigerants and energy efficiency into focus as solutions that enable a sustainable cooling future. Through live webinars, local events hosted by business partners, downloadable and digital tools, and an online library of easy to access information, Danfoss aims to highlight the global and local impact of refrigerant regulations and agreements.
Refrigerant Week will feature:
Webinars and videos
Cool Tools — free tools to aid in the transition
Cool School — a deep source of refrigerant information
Local events
The content of webinars
Oil-free systems ahead of refrigerant regulations and improving efficiency (September 20)
Global trends on refrigerants and regulation (September 24)
The possibilities and limitations of A2L and A3 refrigerants (September 25)
Pick the right refrigerants and components for your cold room and self-contained units (September 25)
Understanding low-charge ammonia systems (September 26)
Transcritical CO2 in industrial refrigeration applications (September 27)
Essential tools for transitioning to new refrigerants (September 27)
Refrigerants in a warming world (September 28)
Leading edge CO2 technologies for smart stores (September 28)
CoolTools – Danfoss Refrigerant Transition Center
Converting to the correct refrigerant requires the right refrigerant tools. We created these digital solutions to help you select the right refrigerant for your situation, find a compatible component, and ensure that the refrigerant is installed correctly in the cooling system.
CoolSchool – Danfoss Learning on refrigeration topics
Danfoss offers a variety of educational solutions to help you understand the refrigerant changes and make the the best decisions about how to adapt to them. Watch videos, take online courses, attend webinars – we have something for everyone.
Webinars – Danfoss Refrigerant Transition Center
A series of webinars to navigate the complex regulatory landscape with two objectives.
Raise awareness and understanding of the new legislation.
Offer support for customers as they determine how to comply with the new regulations.
By default the webinars are in English unless it is mentioned in the title.