Refrigerant recovery gets rapid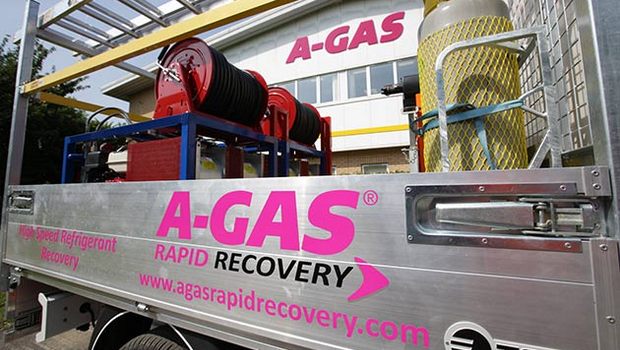 A-Gas has unveiled a new rapid refrigerant recovery service which could save contractors and end users considerable time and money.
The new service follows A-Gas' purchase last year of Rapid Recovery, a Phoenix-based company offering to carry out refrigerant recovery at very high recovery rates – approximately ten times faster than traditional recovery units.
Rapid Recovery was launched in the US to provide an outsourced refrigerant recovery service to contractors. A-Gas bought the company last year after it recognised that by offering a similar service in the UK it could make a big difference to the way the industry operates.
A-Gas Rapid Recovery is now available to customers across the UK and is expected to be rolled out across A-Gas markets elsewhere in the next 12-18 months.
"Rapid Recovery is a bespoke, F-gas compliant recovery service with very high recovery rates – approximately ten times faster than traditional recovery units," said A-Gas managing director John Ormerod. "The main benefit to contractors is that they are able to outsource this work to someone who is a specialist in the field of recovery."
Established in 2002, Rapid Recovery has had extensive experience of the service in the US and operates from 45 sites. Last year, alone, in the US, the company carried out 180,000 recoveries recovering a total of around 1,450 tonnes of refrigerant. And the recovery rates are impressive. Rapid Recovery president Adam Dykstra revealed that on one particular recent job in Chicago, 80,000kg of refrigerant was recovered in just two days.
Already in the UK, the equipment has been used to remove 450kg of refrigerant from three chillers being decommissioned at St George's hospital in London. The recovery process from start to finish took just four hours. It was estimated that it would have taken three days using traditional equipment.
Similarly, at a meat processor in Scotland, 2 tonnes of refrigerant was recovered in six hours, as opposed to an estimated 30 hours using traditional machines.
"Most engineers will tell you that the recovery process can take a great deal of time and anything that speeds it up is welcome," said John Ormerod. "A lot of time is also wasted moving recovery cylinders to and from refrigeration and air conditioning equipment but A-Gas Rapid Recovery brings cylinders to the job."
The machines are AHRI certified and offer no problems in terms of access. Based on a wheeled frame, the machines fit through a standard doorway and have 250ft (75m) of hose. In addition, the machines are petrol-powered and completely independent of onsite services
A-Gas Rapid Recovery has an initial network of five recovery teams in place across the UK to give contractors national coverage. This task force is said to be available to go onsite at short notice and handle recovery work of all sizes.
"With Rapid Recovery we can target the service across all sectors – retail, industrial, facilities management and demolition," said A-Gas commercial director Enzo D'Alessio.
"We have a combination of a high speed recovery unit, a mobile platform and a nationwide response. It is the right product at the right time," he added.