R32 – the importance of training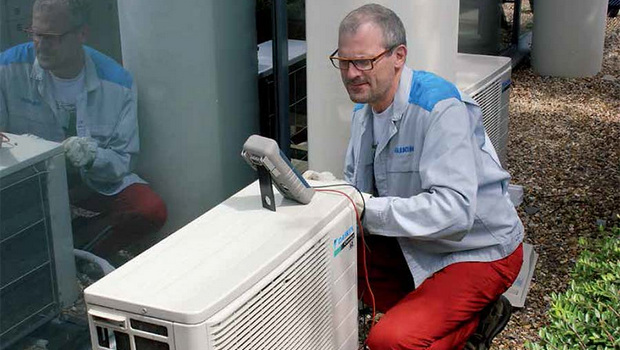 With an increasing number of air conditioning units using R32, one of the leading manufacturers has stressed the importance of specialist training before using this "mildly flammable" refrigerant.
R32 pioneers Daikin have now been joined by fellow market leaders Mitsubishi Electric in introducing air conditioners using this lower GWP alternative to R410A in the UK.
Daikin UK's DX product manager Martin Passingham maintains that industry training will give installers more confidence when approaching their first R32 installation. It will also enable engineers to dispel some misconceptions and learn which of their current R410A tools and equipment are compatible with R32.
"Transitioning towards the use of lower GWP refrigerants, many installers have commented that the current tools will be incompatible, meaning unwelcome upfront investment in new tools for use with R32," said Martin Passingham.
There have also been concerns voiced that during the interim period this will mean keeping two sets of tools that need to be maintained.
"This is one area in particular where training is invaluable," said Martin Passingham, pointing out that training courses, such as Daikin's R32 System Installations – Are You Ready?, cover the complete installation process and all of the essential aspects of R32 system installation, discussing commissioning, repair, tool requirements, legislation compliance and safe handling information.
"During the session, installers can also discover how to evaluate their current tools and equipment to test for cross compatibility between R410A and R32 – saving on costs and the inconvenience of carrying multiple tools," he adds.
As the R32-based systems have a very similar installation process to R410A systems, there are actually a wide range of tools and safety measures that are applicable to both installations.
"For example, the charge hose and gauge manifold are interchangeable between R410A and R32 when a gauge that indicates R32 on the dial has been purchased, Passingham observes. "Several manufacturers have been producing R32 compatible gauges for many years, so it is worth checking current equipment for this dial. Also, the scales, flaring tools and other fixing equipment can be used for both R410A and R32 installations – this is because the pipework installation process is exactly the same for both gasses.
"For other pieces of equipment, such as the cylinder, refrigerant recovery machines and leak checking, devices must be compatible with R32 – however, a simple check with the manufacturer will confirm this either way, with adapters available for cylinders."
As the F-gas phase down of high GWP refrigerants begins and R32 becomes more prominent in air conditioning systems, Passingham maintains that those offering R32-based systems will have a competitive edge over their slower to adapt counterparts.
Cambridge-based contractor Airway Air Conditioning installed its first R32 unit last year and has since installed around 30. Operations director Luke Harris commented: "Although they may look different, the installation process is easy and straightforward. Requiring minimal training to make the move to R32 system installations, we're reaping the benefits that R32 offers to our customers and would strongly recommend that other installers make the change now."