Profroid's CO2 rack offers 40% energy savings compared to HFCs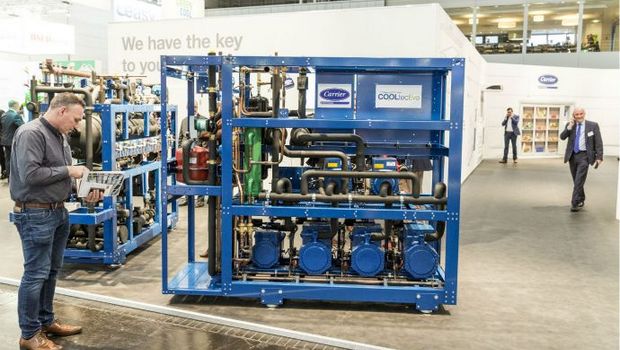 Whatever the climate, the CO2OLtechEvoTM offers substantial energy savings for supermarkets, warehouses and process cooling.
The CO2OLtechEvoTM rack – presented at EuroShop 2017 by Profroid, part of Carrier, offers up to 40% energy savings compared to HFCs and 30% compared with classical CO2 booster transcritical systems and can be used for a variety of cooling applications including medium and large supermarkets, warehouses, and process cooling.
The CO2OLtechEvoTM, described as the second generation of high-efficiency CO2 booster racks with modulating ejector technology, "provides environmentally sustainable and energy efficient refrigeration through a patented modulating vapour ejector, but also a patented cycle with a liquid pump assisting the ejector," Guillaume Burvingt, Profroid and Carrier Commercial Refrigeration product management director, said.
The smart ejector technology – jointly developed by Carrier and CAREL – adjusts to capacity variation and is key to providing these substantial energy savings. "Our ejector is different from others because of the modulation, which allows for adjustable capacity," Burvingt said.
The CO2OLtec EVOTM system offers modularity and simplicity with high-efficiency skid housing ejectors. "Depending on application, we offer six different sizes of ejector. We can also put up to four ejectors in parallel to achieve more than 500 kW of cooling power," he explained.
A new compact condensing unit by Profroid was also on display – the QuietCO2OL.
"We call it this way because it combines an effective full CO2 solution with a low noise level," Burvingt said.
Covering chiller and freezer applications from 1 to 10 kW, the QUIETCO2OL is equipped with an inverter-driven compressor and is ideal for small businesses like convenience stores, petrol stations, caterers and professional kitchens with variable capacity applications such as food retail convenience stores, petrol stations, restaurants, caterers and large kitchens.
It can be connected to several evaporators and is highly serviceable, providing easy access to all components.
"Our multi-compressor version also provides an integrated solution – for air conditioning, heating and refrigeration," he said. The heat recovery feature can also provide space heating.