Plug & Play gas detection for industrial refrigeration – simplify and improve the way you work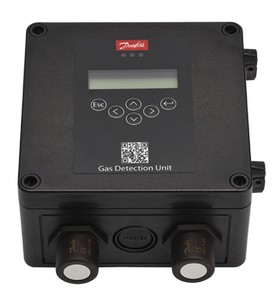 Danfoss gas detectors are based on a digital platform that delivers multiple communication and integration options for improved operational reliability, easy calibration and maintenance efficiency, cost effectiveness, and regulatory compliance.
The Danfoss Gas Detection Solution provides a high degree of flexibility when designing and building your gas detection system. The portfolio ranges from basic to heavy duty models complemented by a range of accessories.
The gas detection units can detect a wide range of refrigerant gases including Ammonia (R717), CO2 (R744), fluorinated refrigerants (HCFC and HFCs), and Propane (R290). They come with various sensor technologies to match the specific refrigerant, application, and safety requirements of the refrigeration system including electrochemical (EC), semiconductor (SC), Pellistor (P), and infrared sensors.
The analog or RS485 Modbus connection enables easy communication to a central system. Stand-alone gas detection units with integrated relays are available and can be connected to external systems directly to activate alarm devices. To provide a strong plug and play solution, all gas detection units come factory preconfigured to match refrigerant and typical PPM setting requirements. Depending on national regulations PPM settings may be subject to change.