Nestlé to open new ammonia-cooled UK warehouse in 2020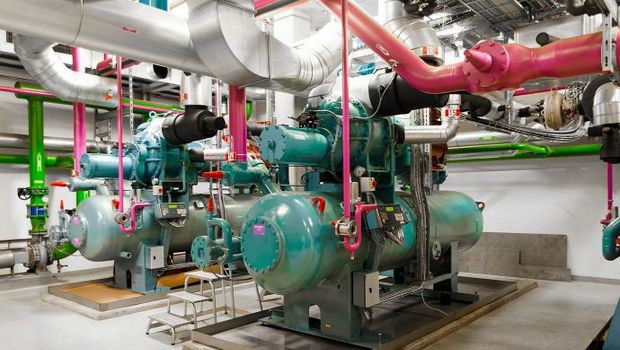 Continuing its commitment to natural refrigerants, Swiss multinational Nestlé has joined forces with transport and logistics company XPO Logistics to open a new UK distribution centre at the East Midlands Gateway Logistics Park in Leicestershire.
The food and beverage giant, headquartered in Vevey, Switzerland, will move into the new 638,000 sq. ft. (59,272 m2) facility in 2020.
By 2020, Nestlé is aiming to reduce greenhouse gas emissions in its distribution operations by 10% (versus 2014).
Natural refrigerants have long played a central role in delivering this. Since 1992, Nestlé has invested CHF 299 million (EUR 276 million) in replacing HFC systems with natural refrigerant-based alternatives for industrial refrigeration. It installed 47 new industrial refrigeration systems based on natural refrigerants in 2016 alone.
"We are thrilled to be working with XPO Logistics to build a flagship digital warehouse and technology laboratory at the East Midlands Gateway Logistics Park. This is a world-first investment for Nestle that builds on a century and a half of proud history in this country," said Nestlé Director of Supply Chain David Hix.
"Our partnership with XPO will encourage innovation and experimentation in our UK logistics operations and help futureproof our business," Hix said.
Nestlé already at over 90% NatRefs in industrial refrigeration worldwide
The majority of Nestlé's refrigerant consumption by charge is attributable to industrial applications. About 90% of Nestlé's refrigerant charge – and potential risk in terms of direct refrigerant emissions – is in manufacturing.
Nestlé is already using natural refrigerants for over 90% of its industrial refrigeration needs worldwide.
"For most big plants, ammonia is the most efficient option," said Vincent Grass, refrigeration team leader in the 'corporate operations – engineering services' department at Nestlé headquarters in Vevey.
The East Midlands facility will feature advanced sorting systems, robotics and other automation technologies. LED lighting, air source heat pumps and rainwater harvesting technology will be among the other environmentally friendly technologies on site.