NaturaLine CO2 containers to -40ºC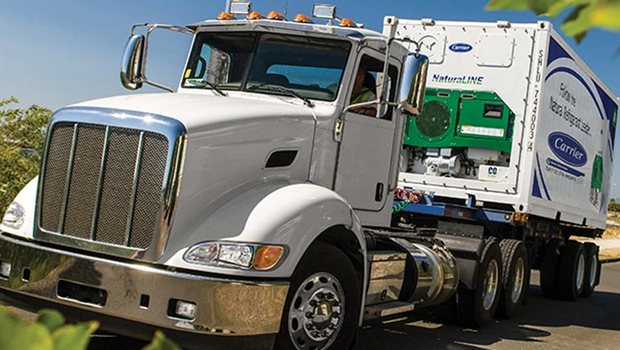 Carrier Transicold has deepened the frozen range of its NaturaLine CO2 container refrigeration units to achieve and maintain a temperature of -40ºC.
Carrier Transicold's engineers are said to have achieved this new benchmark by refining the reefer's control logic to take full advantage of the unit's design and the thermal attributes of the CO2 refrigerant.
"The -40ºC capability can help shipping lines – especially those seeking environmentally responsible solutions – to provide enhanced offerings for customers who prefer colder frozen temperatures for maintaining quality attributes of some premium cargos, like ice cream, shrimp, sushi and other seafood over lengthy voyages," said Jim Taeckens, senior product manager, Global Container Refrigeration, Carrier Transicold.
In addition to its other attributes, the NaturaLine is also said to provides energy-efficient performance and especially excels in perishable, part-load conditions. A variable-speed drive ensures tight temperature control.
The deep-frozen capability is immediately available with all newly purchased NaturaLine units, while exiting units can take advantage of the enhanced performance range through a control software update.
Seaco orders 100 NaturaLines
Leading container leasing company Seaco Global recently ordered 100 NaturaLines.
"With a refrigerated fleet of 170,000 containers, Seaco monitors the new technology being developed to meet environmental legislation and supports all measures toward protection of the planet," said Paul Merritt, Singapore-based Seaco's chief operating officer.
The units destined for Seaco are currently being assembled at Carrier Transicold's container refrigeration facility in Singapore and will be placed onto 40ft high-cube boxes. This NaturaLine unit acquisition follows Seaco's orders earlier this year for 7,000 Carrier Transicold PrimeLine units.