All aboard the NatRef train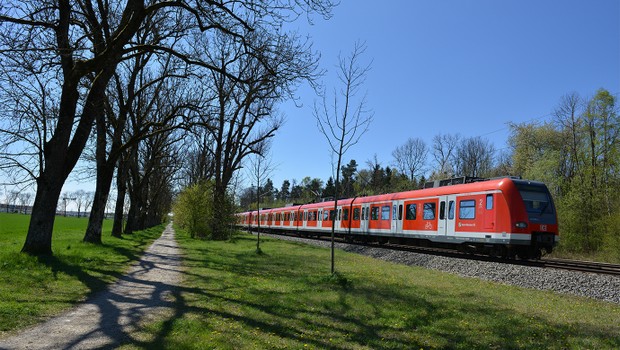 As the world's second-largest transport company and Europe's largest railway operator and infrastructure owner – running two billion passenger journeys per year – Deutsche Bahn (DB) AG is acutely aware of its power to contribute to improving environmental sustainability.
It boldly proclaims on its websites that it is an 'eco-pioneer', harnessing the latest technologies to reduce emissions – and natural refrigerants are one step along this journey.
Deutsche Bahn AG is aiming to reduce its group-wide specific CO2 emissions from rail, road, air and ocean transport by 30% (compared to 2006 levels) by 2020 – under the framework of its so-called 'DB2020+' goal.
"Every day we're developing new technologies with the help of external companies so that we can become leaders in the future," says Martin Hasnik, a project manager for technology management and development at RegioNetz Verkehrs GmbH ('RNV'), a small wholly-owned subsidiary of DB Regio, the rail arm of DB for regional transportation.
DB Bahn manages the Deutsche Bahn group's passenger travel activities within Germany. DB Bahn is divided into two business areas: DB Fernverkehr AG covering long-distance passenger journeys, and DB Regio AG for short and medium-distance passenger journeys, both of which are 100% subsidiaries of the group holding Deutsche Bahn AG.
Deutsche Bahn AG does not just include DB Bahn in its portfolio. It also oversees four other operations groups: Arriva (European regional transport), DB Dienstleistungen (services such as heavy maintenance and cleaning), DB Netze (German national rail track), and DB Schenker (road logistics), to which its overall corporate sustainability goals also apply.
The group has been quite active so far. It has managed to reduce its CO2 eq. emissions by 24.5% by 2015, exceeding its stated target of reducing them by 20% by 2020.
NatRefs on board
For DB Bahn, one way of achieving the sustainability goals in the DB2020+ corporate strategy is to use natural refrigerants in its air conditioning in all new trains.
"We developed the air con to make a contribution to climate goals. These are set from the government but also in our company under DB2020+," says DB's Hasnik.
The German government owns Deutsche Bahn AG, along with the subsidiary DB Bahn, but the group has operated as a joint stock company since it was founded in January 1994 following the reunification of East and West Germany.
This does not mean the German government grants DB Bahn subsidies to install natural refrigerant-based air conditioning (AC), Hasnik explains. "We have an internal budget for technology to test and install natural refrigerant-based air conditioning," he says.
The global warming potential (GWP) of the refrigerant used by DB Bahn at the moment, R134a, is approximately 1,300 times that of one unit of CO2.
Replacing R134a with natural refrigerant CO2 will significantly reduce the company's emissions. "Because we use CO2 as the only refrigerant gas, our emission savings are 100% compared to R134a," Hasnik says.
Currently, there are an estimated 230 DB Bahn trains in Germany fitted with R134a air conditioning. Many of the group's trains are yet to be fitted with air conditioning.
From 2020 onwards, it plans for the air conditioning in all its new trains to use natural refrigerants. The desire to improve sustainability is not DB Bahn's only motivation for choosing natural refrigerants.
The company is well aware of the HFC phase-down implications of the EU's F-Gas Regulation. "It's a mixture for us. The company wants to reach the goals of DB 2020+ and limit our emissions […]. F-Gas is coming and we need to adjust to that as well," Hasnik says.
The EU F-Gas Regulation does not directly apply to trains, but in phasing down HFCs it will most certainly limit the availability of R134a. DB Bahn's use of natural refrigerants will also aid Germany's commitment under the EU F-Gas Regulation to reduce the production and use of f-gases by 80% by the year 2030, according to Germany's State Secretary for the Environment Jochen Flasbarth.
Natural refrigerants, then, are an important step towards the nal destination. But it has been a long journey for Deutsche Bahn to develop a modular CO2 AC system specifically designed for trains.
"[Since 2015] we've been developing air con with CO2 as the refrigerant together with an industrial partner, which is the first time it has been engineered in trains," Sören Claus said, who is head of technical development at RNV and has worked on the project since its inception.
One of the difficulties that DB Bahn has faced since the beginning is that not enough companies in Europe have been manufacturing CO2-based air conditioning for trains and buses. "We have to wait and see how this develops," Claus said. "We have already invested heavily into this ourselves and we hope it will get more competitive."
Now DB Bahn is working with several innovative German companies in the transport refrigeration and air-conditioning business, including Konvekta, Wabtec (previously Faiveley Transport Leipzig GmbH), UPEC Industrial Group, Liebherr and Vossloh. "The old AC was mechanical. [Now with CO2] it is completely electrified, making it very easy to implement. It's better for the business," Hasnik says.