NatRef sector urged to speak up on policy, standards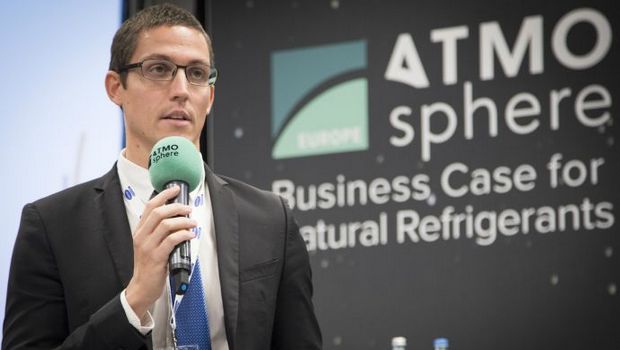 Policy officials and standards experts urged Companies working with natural refrigerants should become more involved in standard-setting and policy development, policy officials and standard experts told participants in the ATMOsphere Europe conference in Berlin yesterday.
"Standards are developed as a function of the people who contribute to their development. Many of you in the room will have something to contribute," said Thomas Willson from the European Environmental Citizens Organisation for Standardisation (ECOS).
"If there is limited participation from stakeholders involved with natural refrigerants, we will end up with legacy standards that do not do much to support the rollout of natural refrigerants. Please get in contact with us, so that we can collaborate on improving standards for natural refrigerants," Willson urged.
A variety of policies and standards relevant to the uptake of natural refrigerants were discussed at the conference.
Charge limits, equipment design rules crucial
Willson called on companies to get involved in influencing the development of key standards that affect natural refrigerants so that they evolve in a way that supports their future growth.
"Standards [such as EN 378 in the European Union] impact natural refrigerant use in terms of charge limits, size and location of machinery rooms, and design of equipment, to name just some of the ways in which they matter," he said.
Applying standards may not always be mandatory, but serves as proof of compliance with legal provisions. Standards influence the development of the market by providing manufacturers and customers with guidelines as to what is safe to use and buy.
Clare Perry from the European Investigation Agency (EIA) argued that safety standards play a major role in the uptake of propane for air conditioning, for instance. There is a real opportunity for companies working with flammable refrigerants – including hydrocarbons – to push for higher charge limits, she said, arguing that there is broad agreement at the international level that charge limits must be increased to allow their wider use.
Perry pointed out that China was driving the push to increase charge limits on flammable refrigerants at the international level.
French NatRef sector urged to speak up
Florian Veyssilier from the French Ministry of the Ecological and Inclusive Transition urged the natural refrigerant sector to communicate more effectively, and make themselves more available and visible to end users and contractors searching for solutions.
"Don't just focus on technical availability. Offer training for contractors and design departments, because our evidence shows that companies wanting to install natural refrigerant solutions need support. Act in groups or through associations in order to seize the opportunities," Veyssilier said.
Asked to give more details about a tax on HFCs to be introduced by the French government in January, Veyssilier explained that talks are currently ongoing with other ministries.
In July, France announced its intention to propose a tax on HFCs as part of a wider Climate Plan. The design of the tax and the legislative timeline are yet to be determined.
Veyssilier said that from today's perspective it was not yet clear whether an incentive scheme linked to the HFC tax to be introduced on 1 January 2018 would be incorporated into the tax regime.
"Several documents were leaked over the summer saying that the tax level would be 30.5 euros per tonne of CO2eq", Veyssilier said. "In fact, many options have been discussed. We consulted on this over the summer, with stakeholders warning us not to put French industry at risk. We've heard this message and it will be reflected in the final text."
Much of France's HVAC&R industry is strongly opposed to the tax, with industry bodies lobbying hard on the issue. Spanish HVAC&R trade association AEFYT has also urged the French government not to take inspiration from the Spanish tax on HFCs.