Mobile ammonia refrigeration without battery, compressor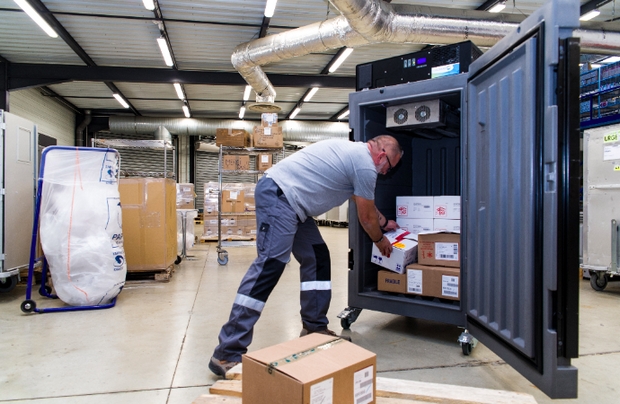 Coldway, a French company, has developed an ammonia mobile refrigeration unit for deliveries for the food, health and pharmaceutical sectors.
"The technology works with a sort of 'thermal energy battery' that can be regenerated indefinitely, always available for powerful cooling or finely regulated refrigeration," Magali Ferrer, health market sales manager at Coldway.
"This is an alternative new solution to meet the growing demand for quality, sustainability and mobility," Ferrer said.
How does it work?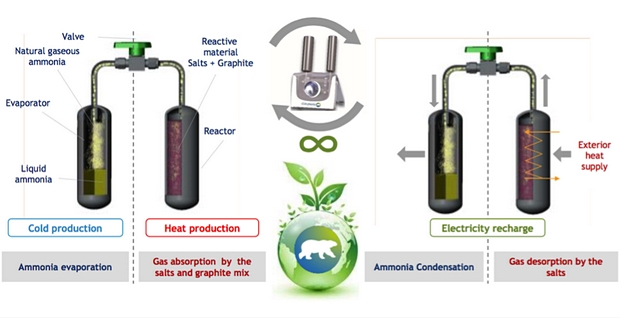 A chemical reaction between ammonia and salts – contained in an evaporator and in a reactor respectively – create a heating and cooling effect. This works through two phases: a phase for producing cold and/or heat (phase one) and a phase of regeneration and energy storage (phase two).
During phase one, "the ammonia vaporises in the evaporator and produces cold, while the gas is absorbed by the salts in the reactor produce heat," she explains. The unit is capable of "producing heat and cold between -30 ° C to over 200 ° C. This is done without any noise".
During phase two, once the ammonia has evaporated, the production of heating and cooling stops and the system is recharged with an external heat input (such as electric, solar, or process heat recovery) that causes ammonia to condense. Thus regenerated, the thermochemical system stores energy and is ready for use again.
Potential is huge
"The Alcatherm Roll [one of their product lines] is being used primarily in transportation of pharmacy," Ferrer said.
Nimes University Hospital Centre, in the south of France, has purchased six units in this range for transporting temperature sensitive pharmaceuticals to different locations on the hospital premises. "We have also plans to start delivering in Paris, with our smaller isothermal delivery units that are perfect for navigating the narrow cobbled streets," she said.
They have already sold many to the food catering and healthcare service sectors. Ferrer sees the unit as, "the answer to the environmental and physical concerns facing the cold chain currently".