Mitsubishi enters CO2 race with all-new condensing unit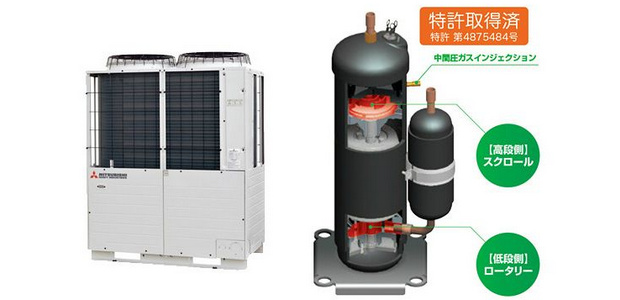 The Japanese multinatonal will offer a 10 HP system to the commercial refrigeration sector next April.
In a surprise announcement yesterday, Mitsubishi Heavy Industries Thermal Systems Co. Ltd. announced its entry into the highly competitive food retail market with a 10 HP CO2 condensing unit (the HCCV1001).
The new unit – equipped with MHI's patented two-stage scroll-rotary compressor technology – will be available in Japan from April 2017. According to Nikkei Sangyo Shimbun, MHI plans to sell 100 units in the first year. The unit will first be available in Japan but the company is interested in introducing the technology in other fast-growing CO2 markets too.
The development of the condensing unit sees MHI build on the success of its CO2 commercial heat pump water heater, the 'Q-Ton', which uses the same compressor technology.
The two-stage compressor uses scroll on the high side and rotary on the low side of compression. The two stage scroll-rotary compressor with mid-pressure gas injection is the world's first such type.
The HCCV1001 can operate in ambient temperatures of -15°C to +43°C and can cover cooling needs ranging from -45°C to -5°C.
With the new CO2 unit, Mitsubishi Heavy Industries is targeting small cold stores and the food retail sector (convenience stores and supermarkets), a market dominated by Panasonic and to a lesser extent by Sanden in Japan.
Market research on natural refrigerants in Japan published in June by shecco estimates that the number of CO2 transcritical stores using condensing units in Japan will reach 2,000 by the end of 2016. The majority of these CO2 stores are convenience stores operated by Lawson (1,600+ CO2 stores), 7-Eleven, Family Mart and MiniStop.
The expansion of the CO2 product line-up can be interpreted as a positive signal for the CO2 market in Japan. After Panasonic and Sanden, Mitsubishi Heavy Industries becomes the latest established Japanese manufacturer to offer state-of-the-art CO2 technology to Japanese retailers, which should increase competition in the market. It remains to be seen whether MHI's move will encourage other 'sleeping giants' such as Mitsubishi Electric, Toshiba, Hitachi or Daikin to develop and offer natural refrigerant-based solutions for Japanese and global markets.