Casa Ley installs Mexico's first transcritical system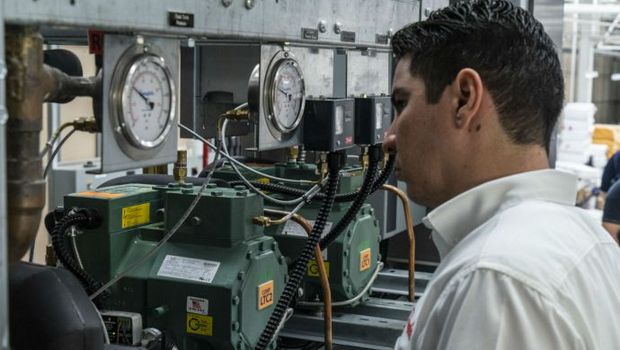 Casa Ley, a major food retailer in Northwest Mexico that operates 246 stores, has formed some fruitful relationships with businesses in the U.S.
One of them started with baseball.
Based in Culiacán in the state of Sinaloa, Casa Ley owns the Tomateros de Culiacán, part of the Mexican Pacific League, which plays from October to January.
In 1980, Juan Manuel Ley, son of company founder Juan Ley Fong, met with Peter Magowan, then CEO of Safeway stores and future president of the San Francisco Giants.
Ley and Magowan bonded over their mutual love baseball. That friendship led to a joint venture the following year in which Safeway gained a 49% stake in Casa Ley, allowing the Mexican chain to enter a period of rapid expansion. (Casa Ley regained full ownership in January 2018.)
Casa Ley's decade-long relationship with another U.S. company, Columbus, Ga.-based refrigeration manufacturer Kysor/Warren, a division of Heatcraft Worldwide Refrigeration, has led to a new opportunity – becoming the first supermarket operator in Mexico to install a climate-friendly transcritical CO2refrigeration system in one of its stores, a new 75,347-sq-ft supercenter in Culiacán that opened last month.
"We were surprised to be the first," said said Juan Manuel Ley-Bastidas, son of Ley and current CEO and chairman of Casa Ley. "But we're proud of that. It validates the work we're doing."
Like other stores in Mexico, Casa Ley has also installed propane beverage coolers provided by vendors.
Casa Ley's installation of transcritical refrigeration will be closely watched by other Mexican retailers as well as those in the southern regions of the U.S. to see how it performs in the hot ambient temperatures that persist year round in Mexico.
Perhaps it shouldn't be surprising that Casa Ley – the fourth largest supermarket chain in Mexico – would be the nation's first retailer to test a transcritical system, given its sense of social responsibility.
"We believe as a company we have to be very responsible to our communities and our customers and employees, said Ley-Bastidas, who became CEO of Casa Ley in 2008 and chairman this year. "And a big part of that is taking care of the environment."
"It's not just for publicity or for marketing," he added. "It's really caring about our kids and communities."
Of course, whatever equipment Casa Ley purchases has to also take productivity into account. "But we believe we can do those in parallel – be responsible and be productive," he said.
In addition, from their analysis of market and policy trends in Mexico and other countries around the world, Casa Ley executives could see that refrigeration technology was moving toward using "less polluting gases," he said. In selecting a transcritical system from Kysor/Warren, "we wanted to get ahead of legislation and stay ahead of the curve."
Mexico, as a participant in the Montreal Protocol, will prohibit the use of R22 in 2024; Casa Ley is working on transitioning away from R22 in the few stores still using it to a lower-GWP drop-in alternative.
In its other stores, Casa Ley uses R404A, but Mexico is expected to ratify the Kigali Amendment, which calls for a phase down of HFCs like R404A. As an Article 5 country, Mexico would have until 2024 to freeze HFC production/consumption at baseline levels, and until 2045 to reduce it by 80%.
Cost premium
The cost and installation of the transcritical unit and adiabatic condenser came at a premium of about 30% over a traditional DX system, said Ley-Bastidas. But with the expected operational savings, Casa Ley would gain an acceptable ROI for the system, he added. It was on that basis that Casa Ley decided it could afford to make an initial investment in the technology, said Manuel Ruiz Dorado, head of management acquisitions and sustainability.
Dorado's department "constantly researches the internet, picks the brains of our suppliers and attends trade fairs to look at what's going on and what's new and being used in other parts of the world," said Ley-Bastidas. "We are constantly looking at new ways to do business."
The Casa Ley executive who proposed installing a CO2system to the company's management was Rafael Francisco Navarro Torua, senior maintenance manager. The selection of transcritical, he said, was the result of a "search [for] better energy efficiency and because "this is where the retail industry is heading." He coordinated the installation of the system, training, and selection of personnel for the project.
Because this technology is new for Mexico, Kysor/Warren, which designed and manufactured Casa Ley's transcritical system at its Columbus, Ga., headquarters, decided to simplify the design, said Ignacio Varela Chaparro, Kysor/Warren's business development lead and the company's lead for the Casa Ley project. That is why, for example, an adiabatic condenser was used rather than parallel compression and an ejector, though adiabatic condensers are more expensive. (The system also does not include heat reclaim.)
"This is the first [transcritical] store, so they don't have technicians qualified to [handle ejectors and parallel compression]," he said. "And adiabatic can provide the same energy benefits, maybe more."
Ley-Bastidas acknowledged that Casa Ley's installation of the transcritical CO2system will serve as a year-long test of factors like energy consumption and maintenance to determine whether the chain will proceed with this technology as a standard for new stores. "It's too early to tell, but I believe all of our initial premises will be met," he said.
Ley-Bastidas was encouraged when told that for low temperatures, the transcritical system requires two compressors with low horsepower. According to Kysor/Warren's Chaparro, the CO2 rack system's low-temperature compressors use a total of 7 HP (one 4 HP and one 3 HP), compared to an HFC system that would require three 12-HP compressors for a total of 36 HP for the same capacity. "That's a huge difference!" Ley-Bastidas exclaimed.
The climate challenge
Undoubtedly the biggest challenge facing retailers in Mexico when it comes to transcritical technology is the hot year-round climate, which in Culiacán includes high humidity. This means that the system will often operate in an environment that is approaching or above CO2's critical point of 88°F, when the gas exists as a supercritical fluid (a mix of gas and liquid) and is cooled but not condensed at the gas cooler/condenser outlet; this can undercut the system's efficiency.
"It was a concern," said Dorado in regard to the high ambient temperatures of Mexico. "But that is why this is a test to validate what we will see after using the equipment for a year."
The Güntner adiabatic condenser used by the transcritical CO2booster system is able to condense the CO2at lower wet-bulb temperatures on hot days, improving the system's efficiency.
The difference between wet-bulb and drybulb temperatures of as much as 22°F "provides good conditions" for the use of the adiabatic unit, said Chaparro. "Adiabatic keeps the system subcritical for as along as possible."
With the adiabatic condenser, Casa Ley's transcritical system could consume 5% to 10% less energy than a conventional DX system, Chaparro said, though he stressed that the actual energy consumption remains to be determined. The maintenance of the system, he added, would be the same or less, in part because of case controllers that automatically set parameters like super heat.
Kysor/Warren, which installed its first transcritical system in the U.S. in 2017, has also placed a transcritical system with an adiabatic condenser at a store in Florida, whose ambient conditions are similar to Culiacán's. "We know the system can handle those conditions," Chaparro said.
Torua considers the adiabatic condenser to be "a very good option" for hot climates like Culiacán's. Moreover, it is "accompanied by a good control system that has given us very good results and at a relatively low cost."
In Georgia, another warm area, a Piggly Wiggly store is using a highly efficient ammonia/CO2cascade system made by Kysor/Warren, but Casa Ley did not consider that system, Chaparro noted.
Vendor training
As the first user of transcritical CO2in Mexico, Casa Ley naturally had a keen interest in receiving adequate training for its technicians and contractor on the use and maintenance of this system, which operates at higher pressures than conventional DX systems. For that, its suppliers – Kysor/Warren as well as compressor maker Bitzer and controller maker Danfoss – provided ample support.
"All the people who gave us technology came to Culiacán and gave us lessons on what we have to know to operate the equipment," said Dorado, adding, "We're ready to operate the equipment, though part of the test will be to see if we are really ready."
Training support was a key consideration in selecting suppliers for the transcritical project, said Ley-Bastidas.
Kysor/Warren conducted training sessions in July for 35-40 technicians from Casa Ley and Zavala Refrigeration, the local contractor that installed the transcritical system, said Chaparro. It included two days of classroom instruction on such topics as basic maintenance and start-up/shut-down procedures.
In addition, during the commissioning of the system in early August, Kysor/Warren's technical sales support (TSS) professionals offered hands-on training for three days at the store.
Kysor/Warren also provided Casa Ley with an illustrated, step-by-step guidebook on basic maintenance, including how to relieve pressures and avoid dry ice formation, as well as a set of CO2pressure gauges. The higher pressures produced by transcritical systems is a common concern among technicians unfamiliar with the technology.
Kysor/Warren offers what it calls the "Sleep Well" promise – a pledge that professional maintenance and emergency service by trained technicians will be available for end users of its systems. In Mexico, Kysor Mexico, based in Mexico City, provides this service. "Our technicians are trained and will go to the store to make sure the system is running," said Chaparro.
In terms of supplies for the first store – such as valves, sensors, and POE oil – Casa Ley has a sufficient stock for routine and unexpected maintenance, said Dorado. A supply of refrigerant-grade CO2is available at the store, added Chapparo.
The company learned during installation what supplies it would need for "any contingency," added Eduardo Ugarte Ramos, construction director for Casa Ley.
"I don't see a problem in regard to the availability of parts in the region," said Ley-Bastidas. However, Casa Ley is evaluating whether it would have a sufficient supply of parts should it decide to roll out transcritical systems to many stores.
As Casa Ley moves ahead with its test of the transcritical system, it's clear that Ley-Bastidas will remain actively involved. "I'm a hands-on CEO," he said. "If my teammates know that I am excited about this, they will be excited, too."