Mayekawa debuts two low-charge ammonia chillers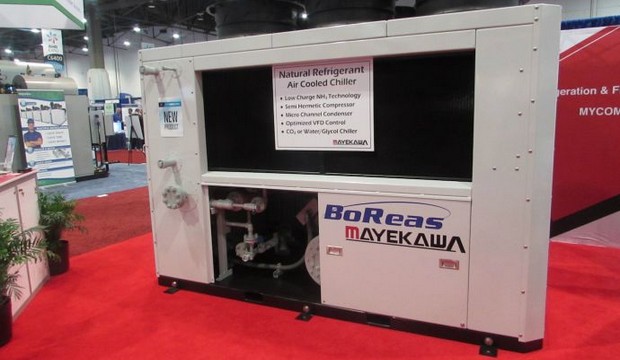 The air-cooled units employ CO2 and water/glycol as secondary fluids as an alternative to HFC systems.
Building on the success of its water-cooled NewTon ammonia/CO2 packaged system, Japanese manufacturer Mayekawa showcased two new air-cooled, low-charge ammonia packaged systems at the AHR Expo in Las Vegas this week for the North American market.
The BoReas is an ammonia/CO2 system delivering CO2 at 22°F for medium-temperature loads in supermarkets, cold-storage facilities and other applications. The other unit, the AuRa, is an ammonia/water-glycol chiller offering water/glycol at 45°F for air-conditioning in commercial buildings like hotels and hospitals.
"Small packaged chillers with a low ammonia charge have the potential to address a lot of the market using HFCs right now," said Troy Davis, energy manager for Mayekawa USA MYCOM, during a presentation at the AHR Expo. "We feel they have wide potential, especially here in the U.S.
The BoReas chiller, located outdoors, "keeps ammonia out of the occupied space," Davis noted.
And while liquid CO2 is pumped into refrigerated areas, CO2 compressors are not used in the system. "There are a number of ammonia/CO2 cascade systems that use CO2 compressors and that requires using oil; it can be a problem getting the oil back." In addition, oil can leave a film on evaporators in the cooling areas, degrading their heat transfer.
Ammonia/CO2 packages that pump liquid CO2 "are the least complex, least troublesome systems we're finding out there right now," he said. "They are very simple to employ."
The BoReas, with a COP of 2.65, comes in three versions: a 21 TR unit with 38 lbs. of ammonia; a 31 TR unit with 58 lbs. of ammonia, and a 42 TR unit with 76 lbs. of ammonia. The AuRa, with a COP of 4.16, also has three versions: 41 TR/82 lbs.; 61 TR/122 lbs.; and 81 TR/162 lbs.