Marine engineering students trained on CO2 refrigeration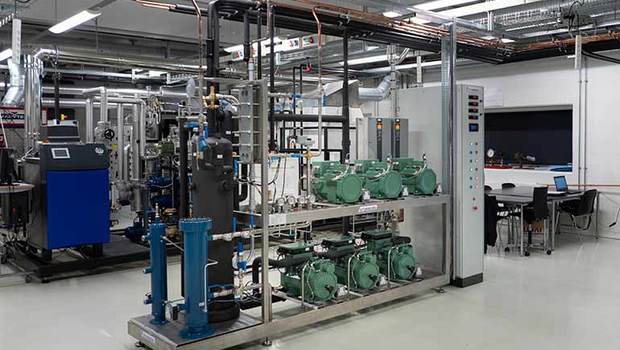 Compressor manufacturer Bitzer has been involved in creating a CO2 refrigeration unit to train students at a marine and technical engineering college in Aarhus, Denmark.
The rig, created in partnership with contractor JF Køleteknik A/S, wholesaler H Jessen Jürgensen A/S and consultant Cool Partners Aps, will be part of educating students about future-proof CO2 technology at the Aarhus Maskinmesterskole.
"The facility is built for students to see and understand how things are connected. At the same time, they now get the possibility to work with a CO2 unit of highest quality. That's also very helpful for the teaching," underlines Lars Astrup, marine engineer and teacher at Aarhus Maskinmesterskole. He is one of the teachers who will introduce students to the control, operation and troubleshooting of the CO2 system. The new CO2 unit will make it easier for students to connect the theoretical teaching taking place in the classroom with practical engineering.
Bitzer supplied three EcoLine ME reciprocating compressors for subcritical applications as well as three EcoLine+ reciprocating compressors for transcritical applications that are equipped with line start permanent magnet motor, Varistep capacity regulation and IQ module.
The Bitzer IQ module is an advanced protection module that monitors the condition of the compressors. It gives teachers and students the possibility to quickly view and analyse historical as well as direct operational data.The IQ module optimises the system by gathering and monitoring temperature, pressure and oil system data. With the collected data, students can monitor the unit and its energy consumption and, subsequently, give suggestions for its optimisation.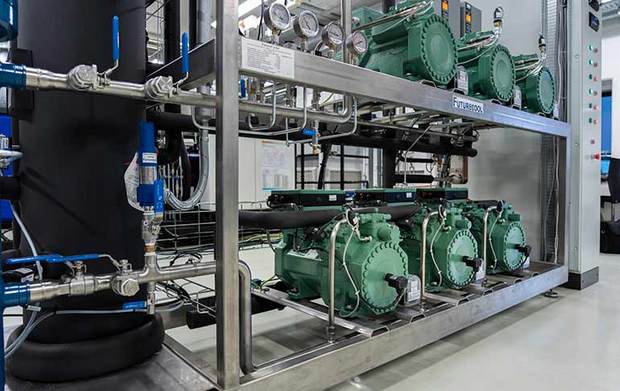 Supply and demand
The CO2 system is financed by the Danish foundation Den Danske Maritime Fond (The Danish Maritime Fund). All the companies involved are said to have offered the individual components at a minimum price.
The rack was built and installed by the company JF Køleteknik whose specialists designed the unit together with Per Skærbæk, consultant at Aarhus Maskinmesterskole and owner of the consultancy agency Cool Partners. JF Køleteknik has previously worked on building and constructing refrigeration systems for teaching purposes. Since 2009, they have built 130 CO2 refrigeration units – all with Bitzer compressors.
H Jessen Jürgensen sold the Bitzer components to JF Køleteknik and supported the project with an extra discount and technical support. Both JF Køleteknik and H Jessen Jürgensen find it difficult to recruit new employees with an interest in refrigeration technology. So they have an extra interest in supporting the project: they depend on eventually finding qualified staff with knowledge of CO2.
"We are always looking for engineers who have good knowledge about refrigeration and CO2 systems. When we support such a facility for educational use, we hope that more young engineers will catch interest for refrigeration. In this way, we can recruit more qualified workers in the long run," said Kim Kirkegaard, regional manager at H Jessen Jürgensen.
The fishing industry has requested more knowledge about larger CO2 industrial refrigeration systems for maritime use. "This interest is very important for Aarhus Maskinmesterskole. In the long term, we must deliver the competencies that the market demands, including applied research," observed Søren Skøtt Andreasen, head of research at Aarhus Maskinmesterskole.