Low-charge ammonia's benefits praised by end users and contractor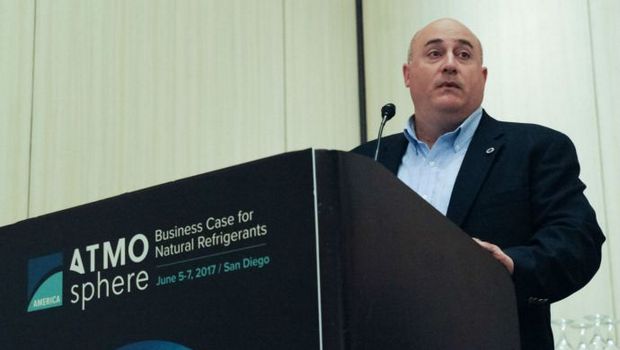 Panelists pointed out safety advantages of low-charge systems for industrial applications on day two of ATMOsphere America in San Diego.
Panelists praised the benefits of low-charge ammonia systems for industrial applications while describing several ways of managing safety and maintenance on day two of ATMOsphere America in San Diego.
Michael Lynch, vice president of engineering, United States Cold Storage (USCS), talked about the lessons learned over the company's 10+ year history of installing and operating CO2/NH3 systems.
"Low-charge refrigeration [ammonia] systems are safer for our employees and the public," said Lynch.
In addition to safety, USCS has seen very little operational difference between traditional ammonia systems and low charge CO2/NH3 cascade systems.
USCS has commissioned 12 CO2/NH3 cascade refrigeration systems since its first installation in 2006. Over that time, it have been able to reduce ammonia inventory by 27% company-wide.
"Reducing the amount of ammonia on site reduces insurance premiums," added Lynch.
Peter Lepschat, corporate manager of engineering services of Henningsen Cold Storage also discussed the benefits his company has seen with low-charge ammonia systems.
Henningsen Cold Storage has been focused on reducing ammonia charge in its systems since 2009. Through its hands-on design approach, Henningsen Cold Storage has been able to significantly reduce the amount of ammonia charge per cubic feet of refrigerated space.
Lepschat also emphasized the fact that a thorough engineering design will lead to a more efficient system. "Our latest facility design operates with a specific energy consumption of 0.3 kWh/cuft/yr, which is one third of the industry average," Lepschat said. "An efficient facility will function fine with a smaller charge."
Panelists were thorough in their analysis of the benefits and drawbacks of low-charge ammonia, compared to other traditional systems, but remained confident in ammonia as the refrigerant for industrial applications.
"Ammonia is not more dangerous than any other refrigerant," remarked Gerard von Dohlen, CEO of a company operating two public refrigerated warehouses in Newark, N.J.
Steve Jackson, president of contractor PermaCold Engineering, affirmed his company's commitment to natural refrigerants.
"We won't sell something that's not good for the planet," said Jackson.