Low-charge ammonia, for cold and heat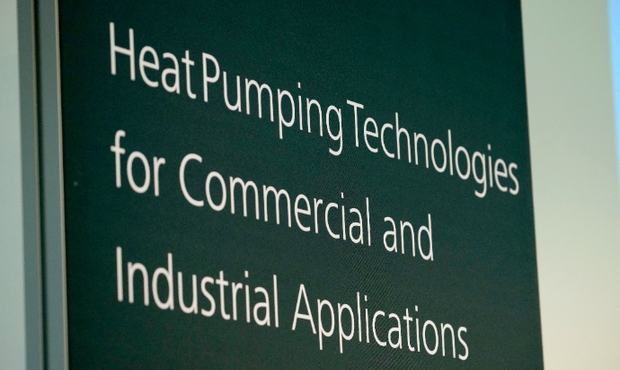 Johnson Controls' chiller and heat pump units use no more than 49 kg (108 lbs.) of ammonia.
Johnson Controls is having success in the European market with a compact, low-charge-ammonia chiller and a comparably low-charge-ammonia heat pump, named ChillPAC and HeatPAC, respectively.
ChillPAC's 20 models range in ammonia charge from 13 kg (29 lbs.) to 49 kg (108 lbs.). They can be employed as a chiller (below 32 °F) or an air conditioner (above 32 °F). Using Sabroe reciprocating compressors, the units range from 90 kW to 1,398 kW in capacity. In chiller applications, they use glycol as a secondary fluid while in air conditioning applications, they employ water.
"The ChillPAC is very popular throughout Europe," said Torsten Nadolski, sales manager, central region, Sabroe Products division of Johnson Controls Systems & Service, Mannheim, Germany, at Chillventa 2016. In particular, it is being employed in cold storage applications and in hospitals, he noted.
Meanwhile, the HeatPAC is being applied "more and more for heating and ventilation, especially in Switzerland, due to the government rules and regulations," said Nadolski. With capacity ranges rom 240 kW to 1,149 kW, HeatPAC's six models contain from 20 kg (44 lbs.) to 48 kg (106 lbs.) of ammonia charge.
The HeatPAC can convert low-temperature waste heat into hot water using only a minimum of electrical energy, according to Johnson Controls.