LG extends R32 use to Therma V split heat pump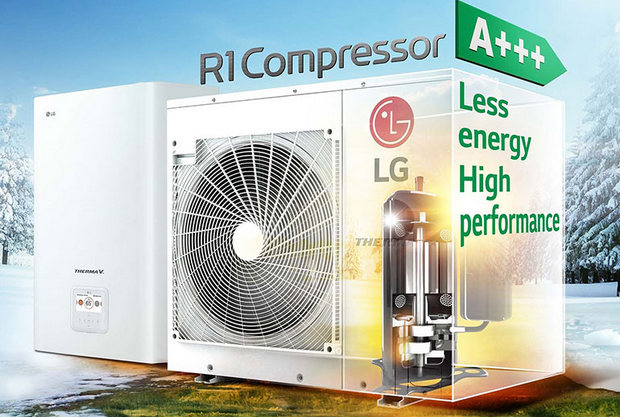 LG has widened the use of lower GWP refrigerant R32 with the introduction of a split version of its Therma V air-to-water heat pump.
Designed specifically for the new and housing renovation markets, the Therma V R32 Split uses advanced compressor technology and smart control.
The LG Therma V split has 100% capacity at temperatures as low as -7°C. It boasts an SCOP of 4.65 in heating operation and an A+++ ErP rating, dependent on a return water temperature of 35°C.
Designed with the knowledge that the compressor accounts for as much as 90% of a system's energy consumption, the R1 compressor is said to be the world's first 'shaft-through' hybrid scroll-shaped compressor. It combines aspects of a scroll-type and rotary-type compressor to maximise effectiveness and efficiency. This is said to eliminates the tilting motion of the scroll, minimising energy waste and increasing overall reliability.
A greater operational range of 10-135Hz is another advantage of the compressor. It also enhances heating performance, ensuring reliable operation at a low ambient temperature of -25°C.
The product is said to feature a number of enhancements that facilitate easier management. Chief among these is SmartThinQ, a smartphone app that lets users monitor and control the solution remotely. Providing access to the majority of system options, the app makes it possible to select or change mode, set the temperature, and monitor energy consumption. It even enables users to 'pre-heat' a room.