Korea and Russia win WorldSkills Gold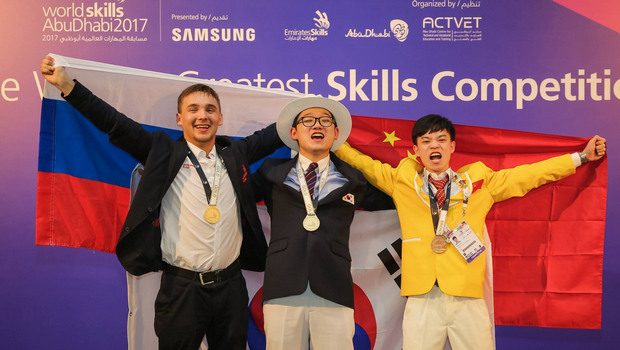 Russia's Vadim Polyakov (21) and Korea's Seung Woo Chae (19) took joint Gold medals in refrigeration and air conditioning at this year's WorldSkills competition in Abu Dhabi.
With no Silver medal, the Bronze went to 21-year-old Zhiqing Wu of China.
The winners were presented with their medals in front of a packed audience at the Abu Dhabi National Exhibition Centre this evening.
The WorldSkills competition, which started on Sunday, saw competitors from 77 countries competing in 51 skill competitions. The refrigeration and air conditioning competition comprised 23 young men and women battling it out for the Gold, Silver and Bronze medals.
Competitors were tested on their air conditioning and refrigeration skills through a series of stand-alone modules. These tests included brazing, equipment knowledge, installation, commissioning and adjustment, fault finding and component replacement.