Japanese warehouse installs NewTon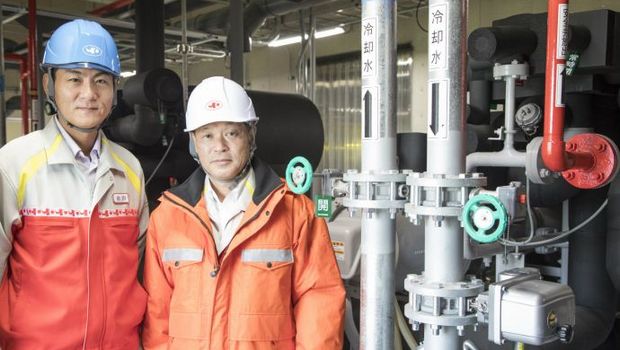 Yokohama Reito Co., Ltd., one of Japan's leading food distribution and cold storage companies, has installed Mayekawa's NewTon NH3/CO2 packaged refrigeration system at its most technologically advanced facility.
The Satte Logistics Facility, opened in June, is located in Saitama, Japan, about two hours north of Tokyo.
Yokohama Reito, headquartered in Yokohama City, Japan, is an industry leader in environmental sustainability initiatives and has always pushed for the use of the latest natural refrigerant technology. In 2001, it announced that all newly established facilities will use only 100% natural refrigerant systems and the new facility is the latest example.
"Though the Satte center is equipped with several new technologies, we are keenly aware of the fact that this will be the new standard for our company when constructing new warehouses," said Hiroyuki Matsubara, senior director for Yokohama Reito's Cold Storage Facilities. "Additionally, the adoption of natural refrigerants when establishing new cold storage facilities or refurbishing them, has been standardized."
The company has also said that it is currently implementing a plan to retrofit existing F-gas based systems to natural refrigerants.
State-of-the-art facility
Yokohama Reito's Satte Logistics Facility is a three-story, reinforced concrete building with a total floor area of about 18,435 sq m.
Three F-class and one C-class Mayekawa NewTon NH­3/CO2 units supply a total refrigerating capacity of 80,833 kW (20,935 RT).
Frozen goods are stored at a temperature of -25°C.
In addition, the facility also employs the use of Mayekawa's "Chris" CO2 heat pump desiccant dehumidifier system.
Mayekawa's "Chris" system is able to dehumidify and maintain the quality of the cargo through the utilization of waste heat, further improving the energy efficiency of the facility.
On the roof of the warehouse, 2,088 solar panels are installed, generating about 615 kW of electricity.
The facility also boasts an "electric movable rack" system and LED lighting.
Retrofitting costs and subsidies
Yokohama Reito, however, is not turning a blind eye to the issue of costs.
"To switch all at once is economically burdensome, so it is our basic policy to go through the [retrofitting] plan in order," said Matsubara.
When retrofitting R22 systems, the cost of the equipment is not the only problem, Matsubara explained.
It is not a matter of simply swapping out the refrigeration system itself due to the potential for ammonia to melt the copper piping of F-gas-based equipment.
Therefore, the costs associated with the time it takes to install and change all the piping must be considered.
"The introduction of natural refrigerant equipment in newly built facilities is technically simple; however, we believe there are still issues to be solved in retrofitting existing R22 facilities," Matsubara said.
Regarding the natural refrigerant subsidies available by the government, Yokohama Reito uses them when they are available as much as possible.
"Because the public offering [for subsidies] is made on a yearly basis, there are cases where our costs are not covered, depending on the length of our construction period," said Matsubara. "However, when they are available, we use it as much as possible and the economic benefits are great."
"Even if there were no subsidies, we would still be installing natural refrigerant systems. At the end of the day, the reason we install solar panels and natural refrigerant systems is for environmental reasons," he added.
Though costs for natural refrigerant systems and retrofitting remain a challenge, Matsubara is confident in the direction of the cold storage industry.
"In the future, I think that costs will decline due to the restrictions being placed on F-gas equipment, and the industry's switch to natural refrigerants will accelerate," he said.