Japanese refrigerated warehouse adopts CO2 condensing units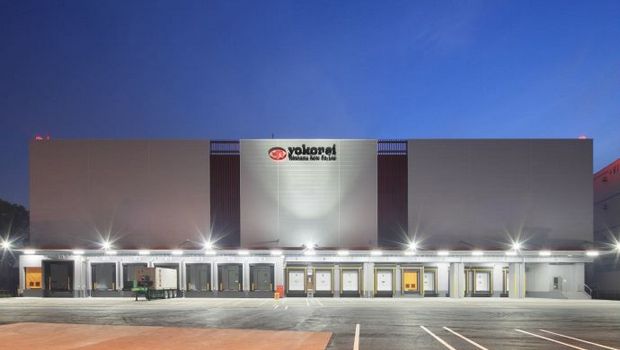 Signaling the continued advancement of natural refrigerant technology by end users in Japan, leading Japanese refrigerated warehouse company and food sales company Yokohama Reito Co. Ltd. (Yokohama Reito) has installed and commissioned CO2 condensing units and NH3/CO2 cascade systems at its newest facility in Tokyo.
The firm's 'Tokyo Haneda Distribution Center' opened on 20 February and is located on Keihinjima island in Tokyo – Japan's single largest freight hub – situated near both Tokyo harbour and Haneda airport.
Anticipating fast growth in demand for domestic and overseas logistics in Japan, there is a significant need for high quality and state-of-the-art storage facilities in land-scarce Tokyo.
In addition, Yokohama Reito – which has been adopting 100% natural refrigerant-based technology for all of its new facilities since 2001 – continues to see natural refrigerant systems as a key part of its corporate social responsibility strategy.
In June of last year, the firm opened and commissioned a new logistics facility cooled by Mayekawa's NewTon NH3/CO2 systems.
"As a part of our corporate social responsibility strategy, we continue to promote the elimination of the use of f-gases in our business," a company spokesperson said in an interview conducted in the latest issue of Accelerate Japan.
"Once we heard that Mitsubishi Heavy Industries Thermal Systems (MHI) began developing their proprietary two-stage scroll and rotary compressor using CO2, we decided to immediately undertake an internal review of the technology."
"When we found that its performance was unique and not found in other similar equipment, we decided to adopt it."
Tokyo Haneda Distribution Center pioneering latest NatRef technology
Yokohama Reito's new Tokyo Haneda Distribution Center is a three-story reinforced concrete structure with a total floor area of 16,877 m2.
Three MHI C-LTS NH3/CO2 cascade systems cool about 8,190 m3 of frozen low-temperature storage space at a temperature of -25°C, while two MHI 10HP 'C-Puzzle' CO2 condensing units cool 246 m3 of refrigerated medium-temperature storage space at a temperature range of -10°C to +10°C.
In addition, solar panels installed on the roof generate about 436 kW of electricity for the facility.
Other features include an "electric movable rack" system, all LED lighting, and a building energy management system, among others.
Yokohama Reito became the first customer to place an order for MHI's 10HP 'C-Puzzle' CO2 condensing unit when it was released in April of last year.
Showing the anticipation of growing demand for large capacity CO 2 systems in this sector, MHI developed and began selling a 20HP unit in April of this year.
It is also the first CO2 direct expansion system installed by Yokohama Reito.
So far, the company has been pleased with the fact that safety is guaranteed since CO2 is non-flammable and non-toxic, while also able to deliver high refrigeration capacity.
As it has only been three months since commissioning, the company is eager to continue monitoring operating performance as ambient temperatures increase over the summer period.
Yokohama Reito believes that, though CO2-only refrigeration systems are still in the development phase, demand for them will increase in the future as performance, safety and lifecycle aspects improve and initial costs come down.
Yokohama Reito carries out internal seminars every month to educate its employees on using CO2.
The firm believes that this type of training and education on a larger scale by the government would be necessary for further adoption of natural refrigerants in the industry.
NatRef subsidies driving adoption in Japan
For this latest installation, Yokohama Reito utilised natural refrigerant subsidies provided by Japan's Ministry of the Environment in FY2017.
This subsidy for natural-refrigerant systems has been renewed for FY2018 (budget: €72 million) and has been extended to include businesses in the food retail and food manufacturing sectors.