Increased interest in low GWP chillers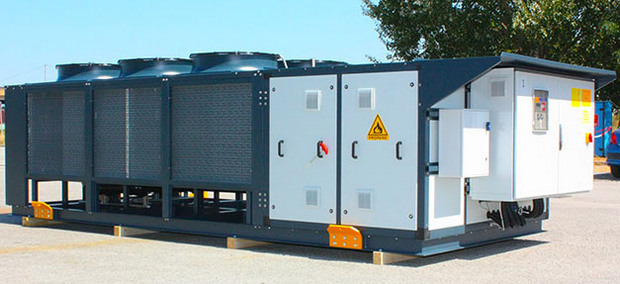 Chiller supplier Klima-Therm is reporting increased interest in low GWP technologies following international curbs on the proliferation of HFCs.
The company reports a significant increase in orders and enquiries for alternatives to HFCs following the F-gas review in Europe and the recent US announcement of a ban on high GWP HFCs in chillers from 2024.
"It is clear that time is running out for HFCs," said Klima-Therm sales director Tim Mitchell. "Given the scale of investment involved, end users considering major capital spend on new and replacement chillers simply can't afford to be exposed.
"End users are seeking reassurance about plant longevity not just in mechanical terms, but in terms of legislation. With the trend now strongly against HFCs, or at least high GWP HFCs, it is rational to seek to future proof businesses, which explains the spike in enquiries about alternatives."
Propane and HFO R1234ze are said to have been a particular focus for Klima-Therm, with one high street retailer alone purchasing over 200 such machines with combined cooling capacity is just over 32MW.
With years of experience of servicing and maintaining these chillers in the field, the company reports that reliability is as good "if not better" than HFC machines, due to their more robust, industrial type build.
Mr Mitchell: "There is a growing recognition that the biggest restriction on growth in use of propane and other flammable refrigerants is not performance, reliability or safety issues, but the legislative framework on flammables that limits maximum charge size."
A revision to the ISO 817 standards is expected to be reflected in a revision to EN378 which currently sets what some see as relatively restrictive flammable refrigerant charge size limits. This will extend the use of A2L refrigerants but leave propane charges limited as now.
"As a general rule, however, propane is more suitable for use in smaller machines where charge size limits are less of an issue, while HFOs are more applicable to larger machines, such as Turbocor-based chillers," said Mitchell.
"HFO is not considered ideal for used in fixed pumping devices, such as screw or reciprocating compressor systems, due to the relatively large quantities of refrigerant that need to be moved to achieve the same effect compared with hydrocarbons."
Comparative costs are also said to have settled down following the initial very high cost of HFOs when launched onto the market.
"Typically, a well specified, high efficiency HFO machine has had a premium of around 50% compared to a completely standard HFC chiller, virtually in line with a propane machine," he says.
"However, with a suitable application and comparable core specification, some HFO machines carry almost no premium at all over traditional HFC options."