Hillphoenix to distribute NXTCOLD in Canada, Mexico and Latin America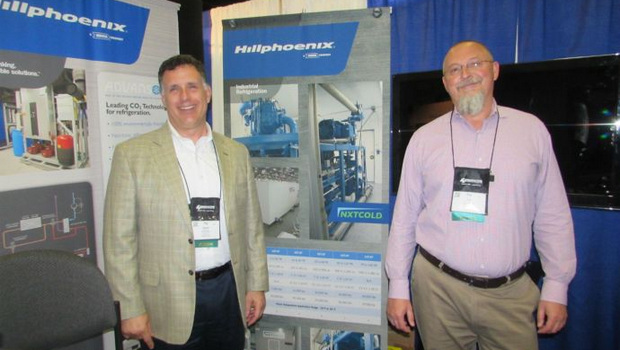 The OEM will manufacture, market and install the ultra-low-charge packaged ammonia units for industrial facilities.
OEM Hillphoenix has announced that it will be the sole distributor of NXTCOLD's ultra-low-charge packaged ammonia units for industrial applications in Canada, Mexico and Latin America, handling manufacturing, marketing and installation.
"The NXTCOLD product is a good fit for us because it taps into our core competency as a manufacturer," said David Neu, vice president, industrial refrigeration for Hillphoenix, at the company's booth last week at the IIAR Natural Refrigeration Conference & Heavy Equipment Expo in San Antonio, Texas. "With the innovation of the ultra-low-charge system and our manufacturing and marketing capability, we believe there will be a rapid growth curve for the product in Mexico, Latin America and Canada. There's a tremendous amount of untapped opportunity."
In the industrial arena, Hillphoenix has installed transcritical CO2 systems in ice rinks, including three in Anchorage, Alaska, with a fourth starting up in September. The NXTCOLD agreement "gives us an immediate entry into the ammonia side of the market," said Tim Henderson, industrial program manager for Conyers, Ga.-based Hillphoenix.
NXTCOLD, based in Los Angeles, designed the system to be capable of ammonia charges that are under 1 lb./TR. Over the past few years the company has installed units in cold-storage facilities in California, including a Lineage Logistics plant in Oxnard, Calif., a Baker Cold Storage Facility in Long Beach, Calif. (managed by Lineage Logistics), a Los Angeles Cold Storage facility, and a Neptune Foods seafood storage warehouse in San Pedro, Calif. Hillphoenix has manufactured NXTCOLD units for the U.S. market.