Hillphoenix surpasses 200 transcritical CO2 systems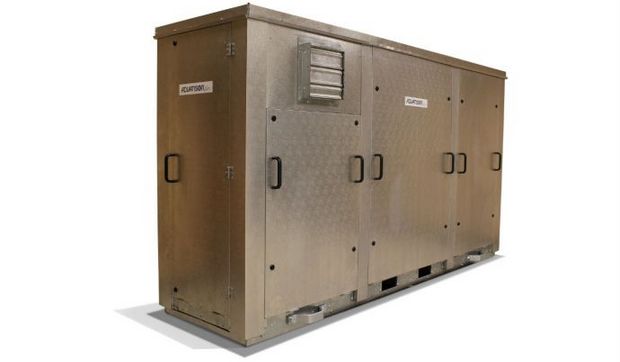 The OEM has been especially busy this year, producing approximately 75 transcritical racks so far, including the new, smaller AdvansorFlex unit.
The number of supermarkets in North America that run transcritical CO2 refrigeration systems is still fairly modest – somewhere north of 300 – compared with other parts of the world, particularly Europe.
Still, supermarkets in North America have only been using transcritical systems since 2009, when Sobeys began installing them in Canada; the first U.S. installations started in 2013.
One of the key OEMs supplying these systems, particularly in the U.S., is Hillphoenix; the Conyers, Ga.-based company has produced more than 200 of them, typically one per store, with some going in industrial plants, according to Scott Martin, director of sustainable technologies, Refrigeration Systems Division at Hillphoenix.
"It's pretty exciting to watch it grow," said Martin.
Hillphoenix has been especially busy making transcritical racks in 2016, producing approximately 75 so far; the company will end the year with close to 250 total units.
The 2016 production comprises the standard Advansor-brand transcritical rack system, built in multiple compressor configurations up to an 8 × 4 configuration (eight medium-temperature compressors and four low-temperature compressors); Whole Foods Market and Roundy's, for example, have installed a number of these units. Independent grocers operating a handful of stores, such as DeCicco & Sons, Pelham, N.Y., have also been purchasing Hillphoenix's transcritical systems.
Hillphoenix has also been producing a smaller unit introduced in December 2015 called AdvansorFlex, which uses a 3 × 2 compressor configuration and less expensive components to bring its price closer to that of HFC technology. Designed for smaller stores, AdvansorFlex has been installed in 365 by Whole Foods outlets.
Declining costs have helped drive some of the transcritical sales this year, said Martin. "We have been working really hard to get the cost down." (The price of individual transcritical systems usually varies by installation, he noted.) But it is still difficult getting U.L-approval for less expensive components widely used in European transcritical installations that could further reduce costs. (See "Hillphoenix's Components Quest," Accelerate America, September 2015.)
Transcritical systems typically offer better energy efficiency than HFC counterparts, helping to pay down the extra cost of the equipment. Even in in warm southern locations like Georgia, Alabama and Florida, Hillphoenix's transcritical systems have been running efficiently thanks to the use of adiabatic condensers, said Martin; the cost of those condensers has been dropping as a result of more competition among suppliers. Martin said he sees more opportunities for energy-efficiency incentives from utilities that would also help defray the cost of transcritical technology.
In addition to benefitting from the efficiency of the transcritical systems, more end users are leveraging the heat reclaim offered by the technology, Martin noted.
The phasing out of HFCs like R404A by the U.S. Environmental Protection Agency is also helping to spark transcritical sales. "This latest phaseout of our common refrigerants is really having an impact and driving retailers to look at more long-term and natural solutions, said Martin.
Some end users of transcritical systems have reported experiencing CO2 leaks. In one case Hillphoenix found that what appeared to be a leak was actually the result of a technician "blowing out" the CO2 charge during routine maintenance. "Because CO2 is a natural refrigerant, it is less costly for contractors to not bother reclaiming the refrigerant during a service call," Martin explained.
But some early transcritical systems also lost charge due to faulty fittings, which have gradually been replaced. "it's the growing pains of the technology," said Martin.