In a High-Stakes Environmental Whodunit, Many Clues Point to China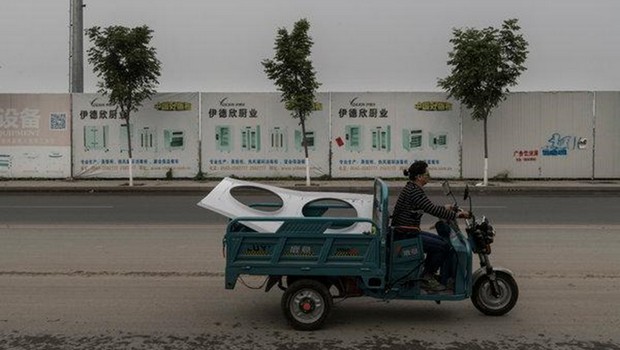 Billboards in Xingfu, China, promoting locally made refrigerators. The city has around 1,700 businesses involved in the production of cooking and refrigeration equipment.
Last month, scientists disclosed a global pollution mystery: a surprise rise in emissions of an outlawed industrial gas that destroys the atmosphere's protective ozone layer.
The unexpected spike is undermining what has been hailed as the most successful international environmental agreement ever enacted: the Montreal Protocol, which includes a ban on chlorofluorocarbons, or CFCs, and which was expected to bring a full recovery of the ozone layer by midcentury. But the source of the pollution has remained unknown.
Now, a trail of clues leads to this scrappy industrial boomtown in rural China.
Interviews, documents and advertisements collected by The New York Times and independent investigators indicate that a major source — possibly the overwhelming one — is factories in China that have ignored a global ban and kept making or using the chemical, CFC-11, mostly to produce foam insulation for refrigerators and buildings.
"You had a choice: Choose the cheaper foam agent that's not so good for the environment, or the expensive one that's better for the environment," said Zhang Wenbo, owner of a refrigerator factory here in Xingfu, in Shandong Province, where he and many other small-scale manufacturers said that until recently, they had used CFC-11 widely to make foam insulation.
"Of course, we chose the cheaper foam agent," Mr. Zhang said during an interview in his office. "That's how we survived."
As it happens, a crackdown was underway in the town and moments later, four officials entered Mr. Zhang's factory, handed him a leaflet warning against a range of environmental violations, including using CFC-11, and ordered his factory closed.
"They never told us until last year that it was damaging the atmosphere," Mr. Zhang said. "Nobody came to check what we were using, so we thought it was O.K."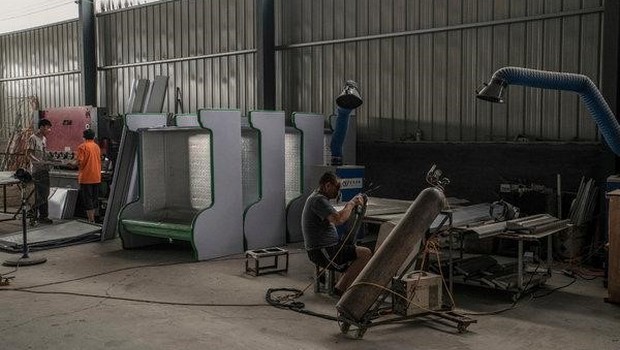 A refrigerator plant in Xingfu. Many factories in the city are small, with only a handful of workers.
China has the world's largest polyurethane foam market, making up about 40 percent of global consumption. And China accounted for nearly all East Asian production of CFC-11 and similar chemicals before they were banned.
China's struggle to eradicate CFC-11 embodies the hurdles it faces in cleaning up after decades of frenetic industrial expansion, when officials often treated pollution as a necessary price of prosperity. But it also has consequences far beyond the nation's borders.
Researchers said in a study published last month that a rise in emissions of CFC-11 was jeopardizing the effort to repair the ozone layer, which protects people and crops from the sun's damaging ultraviolet rays.
That effort began in the 1980s with the adoption of the Montreal Protocol, which ultimately outlawed CFC-11 and similar chemicals that destroy the ozone layer (and, because they are greenhouse gases, contribute to global warming). Scientists predicted that, as the chemicals produced before the ban came into force degraded and disappeared, the layer would be fully restored by the middle of this century. But the recent study said the new emissions could delay that recovery by a decade.
Some experts were skeptical that foam production in China could be the culprit.
"It is a very large amount to appear so suddenly," David Sherry, a British expert on ozone chemicals who has worked in China, said by email.
But the study's authors said that such a large tide of emissions — on the order of 13,000 metric tons a year — could be explained only by new, illegal production, and said the source was probably in East Asia. Evidence suggests that an important focus may be small foam makers and their chemical suppliers in China, where regulators have long had a tough time bringing polluters to heel.
Chinese traders and experts candidly described how small, primitive chemical plants have kept making CFC-11 in spite of the ban, and their accounts are backed by government documents.
"Currently there is still a large volume of illegally produced CFC-11 being used in the foam industry," Shao Changying, an environment official in Shandong, wrote in a report published last year. Another Shandong environment office report in 2016 described a "quite vigorous illegal production of outmoded CFC-11," which it said was "bringing risks to the market and environment."
By Chris Buckley and Henry Fountain