Focus on the consumption of HCFCs in developing countries
On the occasion of the end of the first stage of the Hydrofluorocarbons Phase Out Management Plan (HPMP), the Multilateral Fund for the Implementation of the Montreal Protocol has published data on the HCFC consumption in developing countries (also known as Article 5 countries).
The following table gathers the data for 19 countries. It shows that HCFC consumption (measured in metric tonnes and in ozone depleting potential tonnes) globally decreased year on year from 2013 to 2016. The exceptions are marked in red. During those years, HCFC consumption increased.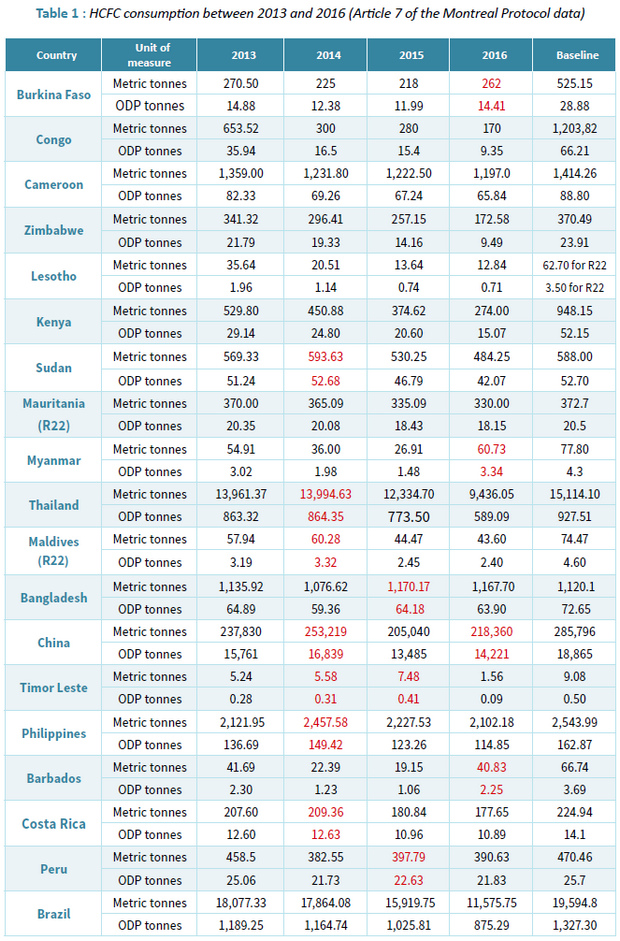 All 19 countries managed to keep their HCFC consumption below the baseline for compliance. This illustrates the benefits of the first stage the Hydrofluorocarbons Phase Out Management Plan. Nevertheless, HCFC consumption increased in a few country in 2016.
In Burkina Faso, consumption increased by 20% as compared to 2015 due to greater demand from importers.
In Myanmar, the 2016 increase is due to a growth of R22 based equipment and commercial factors.
In China,

HCFC

consumption was higher in 2016 than in 2015 but still lower than in 2014 and previous years. It can be explained by an economic slowdown in 2015, particularly in the real estate market, followed by economic recovery in 2016.
In Barbados,

HCFC

consumption increased in 2016 compared to 2015 due to a growth in the construction sector.
In most countries, HFC-134a, R-404A, R-407C and R-410A are the most commonly used alternatives by the refrigeration sector because of price, know-how and availability. R-600a use is limited to domestic refrigeration. Ammonia technology is used to a limited extent in industrial refrigeration.
The Montreal Protocol schedules the complete phase-out of HCFC for 2040. The second stage of the HPMP should help article 5 countries achieve this goal.