Natural refrigerants to facilitate HCFC phase-out in China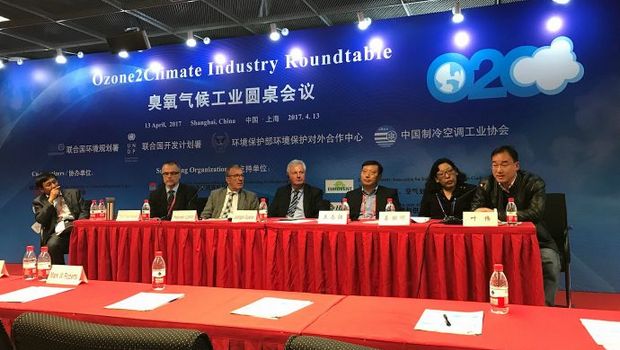 As Stage II of China's HCFC Phase-out Management Plan gets underway, China's HVAC&R industry leaders are increasingly looking towards natural refrigerants as the preferred solution.
As industry discussion on managing China's HCFC phase-out intensifies, a considerable number of natural refrigerant-based HVAC&R solutions were on display from both local and international suppliers at China Refrigeration 2017.
Panellists at the Ozone2Climate Industry Roundtable – held alongside China Refrigeration 2017 (12-14 April, Shanghai) – discussed progress made with natural refrigerant technology around the world and its application in the Chinese market.
"Things are moving in the right direction. With or without Kigali, I think that it is very clear that China's industry will be moving forward with low-GWP, high energy-efficiency equipment," said Shaofeng Hu, network coordinator for the United Nations Environment Programme (UNEP).
"From component suppliers to system manufacturers, end users and the government – it's clear that we all share a similar vision," Hu said.
Wal-Mart China mulling
HFC

alternatives

Ye Wei, facilities director for Wal-Mart China, talked about the company's desire to look for alternative refrigerants to increase energy efficiency and reduce the environmental impact of its stores..

Signalling Wal-Mart's increased effort to invest in eco-friendly refrigeration technology, Wei commented, "our status quo is using HFCs for our refrigeration systems, but now we are trying new refrigerants".

"[Wal-Mart] wants to reduce [refrigeration] leakage rates. We believe comprehensive system solutions will be our future direction," he said.

Representing China's largest domestic refrigeration system suppliers on the panel were vice-chief engineer for Yantai Moon, Jiang Shaoming, and chief engineer for Dalian Refrigeration, Wang Zhiqiang.

Yantai Moon is the largest domestic supplier of industrial refrigeration systems in China, holding more than 60% of the market.

Asked to outline Yantai Moon's strategy, Shaoming stated, "we advocate the use of natural refrigerants".

At China Refrigeration 2017, Yantai Moon displayed the show's largest CO2/NH3 cascade system, selected as one of the exhibition's 'Innovative Products' of 2017.

Zhiqiang from Dalian Refrigeration told a similar story. "At Dalian, we have been using NH3 as our main refrigerant for industrial refrigeration," he said.

"Though we still have much more to do in terms of safety research, in the industrial cold chain sector, we believe natural refrigerants are the trend of the future," the engineer declared.
Natural refrigerants fit for Chinese market, climate
Addressing concerns about efficiency and safety, Jürgen Goeller, director of sustainability at Carrier Transicold & Refrigeration Systems, spoke about Carrier's extensive experience with hydrocarbons and the advent of CO2 use in warm climates.
"In the past couple of years, we have seen ongoing developments to eliminate the so-called CO2 equator line, with innovations like parallel compression and ejector technology. We also supply small stand-alone hydrocarbon units for supermarkets and petrol station shops, as long as we can ensure that the charge size is restricted to below 150g."
"This technology is now fully commercially available," Goeller said.
China aligned on direction, but challenges remain
The Chinese government is ready to begin 'Stage II' of its HCFC Phase-out Management Plan, which includes initiatives that could potentially begin funding pilot projects for transcritical CO2 systems in China sometime this year.
This marks an important step towards wider uptake of natural refrigerant-based systems in China. But challenges remain.
UNEP's Hu outlined the challenge of reaching the largest portion of the Chinese market: small and medium-sized businesses.
"For the industry leaders and for the big companies, I think we all understand where we should move, where we should go, and how we can get there," Hu said.
"However, smaller end users need to get more educated and need to be more aware of the new direction in order to move forward."
Despite these challenges, the panelists at the Ozone2Climate Industry Roundtable remained steadfast and optimistic.
Hong Yun, project manager for the United Nations Development Programme (UNDP) in China, commented: "I think that the natural refrigerants CO2, ammonia, and hydrocarbons are very interesting solutions for China. With the Stage II HCFC Phase-out Management Plan underway, China is taking natural refrigerants into account."