Güntner to show off natural refrigerant line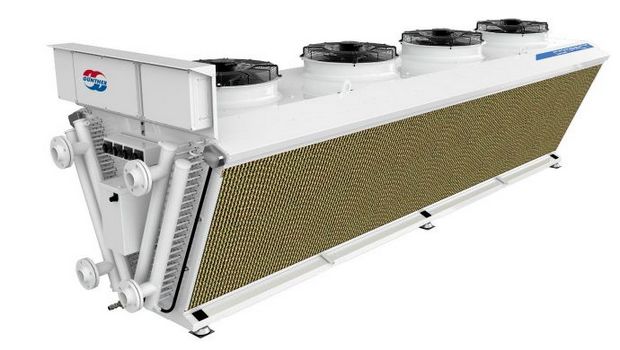 Güntner, the German manufacturer of heat transfer technologies, will showcase its wide range of natural refrigerant products at Chillventa, the world's biggest HVAC&R show, from 16-18 October 2018 at Nuremberg Messe, Germany.
At Chillventa, Güntner will present the V-SHAPE Vario, a pre-cooling system for a condenser, fluid cooler or gas cooler, which has been optimised for use with NH3, CO2, propane or a water/glycol mixture. It boasts protection against legionella disease.
The company, in its press release for Chillventa, highlights the product's ultra-modern controls for energy-efficient motor management and pre-cooling systems.
In line with the Vario concept, Güntner 's air cooler can be used with CO2 at up to 80 bar of pressure, as well as with other natural refrigerants ammonia and hydrocarbons. "Fully in line with the Vario principle, the CUBIC Vario air coolers offer an extensive range of accessories, from repair switches to hot gas defrosting," the company stated in its press release.
The FLAT Vario is more suited for use with transcritical CO2 applications and can reach up to 120 bar as standard. The company says the product is, "reliable and leak-proof thanks to tried-and-tested Güntner floating coil principle [and] easy to mount and to access for inspection and cleaning".
Other products being shown include the V-SHAPE Compact with a HydroPad, for adiabatic cooling, a central building management communication system, air coolers for small cold rooms, and controls for EC fans.
The company is also offering a virtual tour for Chillventa: "Take a virtual tour of these and other units in the Güntner Virtual Experience: You will see how the units operate in the most diverse conditions, in different operating states and with all their functions."