Germany, Austria showing NatRef leadership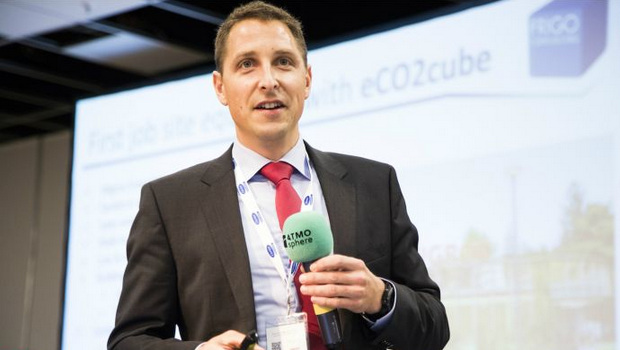 Policy leadership and high levels of technological knowhow and environmental awareness are putting Germany and Austria at the forefront of natural refrigerant adoption and innovation, heard participants in the eighth annual ATMOsphere Europe conference in Berlin, Germany this week (25-27 September).
Germany has a firm greenhouse gas reduction pathway in place until 2050, while a recent report assessing the impact of legislative and non-legislative measures under the Climate Action Programme 2020 and National Climate Initiative indicates that efforts to slash emissions are already bearing fruit, Hans-Peter Klein from the German Federal Ministry for the Environment, Nature Conservation, Building and Nuclear Safety (BMUB) told the Hotel Mercure MOA audience.
Klein announced that the German government would introduce a cooling award in May 2018.
Austria's f-gas ordinance, meanwhile, first entered into force in 2002 and was updated in 2007. It limits the use of HFCs in refrigeration and air conditioning depending on the type and size of installation. "The reduction of HFCs is already affecting the market," said Maria Purzner from the Austrian Environment Agency.
A cornerstone of German multinational retail giant the METRO Group's climate strategy is its F-Gas Exit Program. It will see METRO AG phase out f-gases by 2030, replacing them with natural refrigerants in all store location worldwide – where it is technically feasible and economically reasonable to do so.
METRO plans to open its first zero-emission store in St. Pölten, Austria, very soon. And it will open its first stores in Germany to harness ejector technology in 2018.
Natural refrigerants 'no longer' a niche product
"Natural refrigerants are no longer a niche product," said Barbara Gshrey of Öko-Recherche, an independent environmental research institution and consultancy based in Frankfurt-am-Main.
Gshrey said Germany first began investigating the use and emissions of ozone-depleting substances (ODS) in the 1970s and had been publicly funding research on ODS alternatives including non-HFC options since 1989.
Jonas Schönenberger of Frigo-Consulting – a Swiss refrigeration consulting and engineering company – said the firm had played a pioneering role in rolling out ejectors in Europe, with 80 ejector projects in operation throughout Europe in 2017.
"What are the accelerating arguments for natural refrigerants? We all know about their fantastic physical behaviour. We just need to design systems that use them in the most effective way," Schönenberger said.
"We all know that the environment impact is lower with natural refrigerants. They're here to stay, that's for sure. It's a future proof technology, and it's the way to go," he said.
"There is no business case for the chemical brothers," Schönenberger quipped.
Broadening the market
Jürgen Süss (efficient energy) argued that data centres would be a growth area for natural refrigerants. "It's time to find an F-Gas [Regulation]-compliant solution for data centres – there's a lot of potential for natural refrigerants there," he said.
"Natural refrigerants are not yet very widely used in data centres. Yet data centres are also part of the F-Gas Regulation, so a solution will need to be found," said Süss, presenting his water-based eChiller for cooling data centres.
AHT Cooling Systems GmbH, an Austrian manufacturer of commercial cooling cabinets, has been committed to natural refrigerants since the 1990s. It has sold 700,000 propane cabinets in Europe – mostly in Germany – and around one million worldwide. "We firmly believe in two fundamental principles – plug-in instead of remote cabinets, and the use of propane," said AHT's Christoph Gasser.
"Acceptance of natural refrigerants is very high in Germany, Switzerland and Austria. Sustainability and 'thinking green' are important market drivers in these countries," Gasser said.
At the EU level, Arno Kaschl from the European Commission expressed his conviction that the EU F-Gas Regulation is delivering on its objective of phasing down HFCs.
"Our f-gas policies are working: emissions are falling, consumption is falling, and companies are respecting their quotas," Kaschl said.
"The price signal is clearly there. Prices of HFCs are rising quite a lot," he added.