Geoclima makes U.S. debut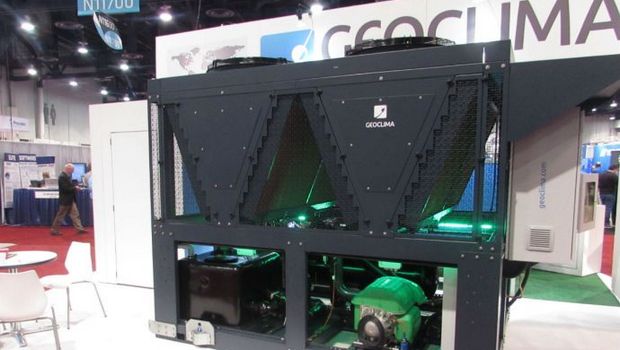 At AHR Expo, the Italian company offered propane chillers designed for supermarkets and warehouses.
Making its first appearance in the U.S. market last week at the AHR Expo in Las Vegas, Italian chiller manufacturer Geoclima promoted its environmentally friendly systems, including medium-temperature propane (R290) chillers used by supermarkets and cold storage warehouses.
Geoclima has previously sold chillers in the U.S. without any marketing effort. "We said, maybe we can do better here if we focus on it," noted Fabian Lant, sales manager for the company. "We don't have any big aim or target. We want to see what is possible. Then if business increases, we will introduce manufacturing here."
Geoclima currently has factories and sales operations in Italy, Russia and Thailand, and does business throughout Europe as well as Southeast Asia, India, China and Australia. The company is currently seeking sales offices in the U.S. Its products are UL-approved.
Natural refrigerant-based chillers using propane, CO2 or ammonia represent 15% to 20% of its business, said Lant. Its propane chillers range in capacity from 3 TR to 300 TR and come in air- and water-cooled models; using water as a secondary coolant, they have been applied in supermarkets such as Waitrose in the U.K. and in vegetable warehouses. The propane chillers, whose refrigerant charge usually does not exceed 10 kg (22 lbs.) per circuit, "have been very well accepted in Europe," he said.
The propane chillers are equipped with adiabatic condensers that use a unique water distribution method that avoids spraying.