GEA makes low-charge ammonia chillers available in U.S.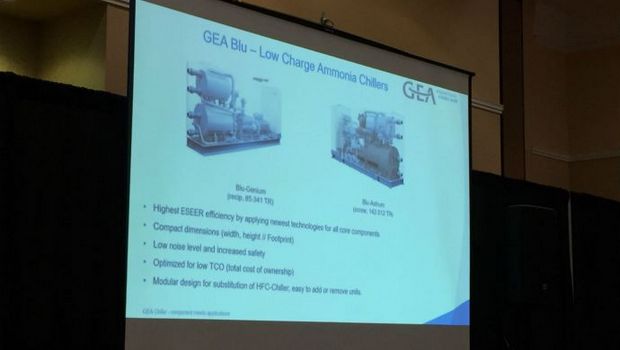 German OEM GEA, whose North American office is in York, Pa., has announced that its GEA Blu low-charge ammonia chillers, which have been sold in Europe are now available in the U.S.
The Blu line has a temperature range of between 5°F and 60°F.
For example, GEA has sold "nearly 300 units of the modular Blu-Astrum chiller in Europe (primarily with glycol) since its launch in 2012," said Lawrence Bradley, director of solution sales – refrigeration for GEA North America in a presentation in March at the IIAR Natural Refrigeration Conference & Expo. This chiller uses a screw compressor and offers capacities of between 156 and 492 TR, and an ammonia charge range of between 110 and 242 lbs.
The Blu-Genium chiller uses a reciprocating compressor and delvers capacities of between 85 and 341 TR.
GEA touts high ESEER efficiency for both chillers as well as compact dimensions and low noise levels. Its modular design accommodates "substitution of HFC chillers," said Bradley.