Frick continues rollout of low-charge central system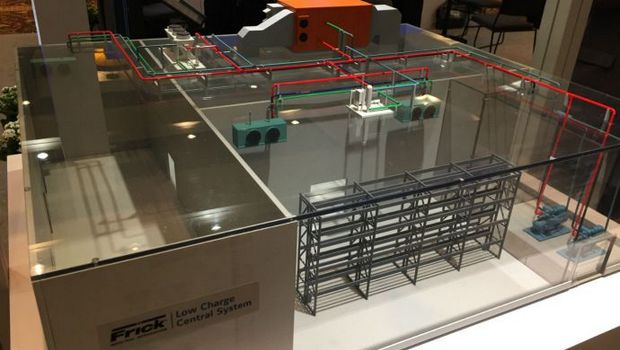 Frick Industrial Refrigeration has continued the rollout of its low-charge ammonia central system (LCCS) at a second location, a cold-storage facility in Canada, said Joseph Pillis, director, global industrial refrigeration technology for Frick's parent, Johnson Controls, Waynesboro, Pa.
Last year at the IIAR Natural Refrigeration Conference & Expo, Frick introduced the LCCS, which uses remote distributed condensing (RDC) units to reduce the amount of ammonia charge of a liquid overfeed system by 80% or more, to between 1.5 and 3 lbs/TR from 20 to 23 lbs/TR.
The system was first installed last year at a food processing plant, originally providing 660 TR of capacity with only 2 lbs/TR of ammonia charge; the plant was expanded at the end of 2017. Frick "tweaked the system" to better accommodate low ambient temperatures," said Pillis at this year's IIAR Conference, held last month in Colorado Springs. Colo.
For the LCCS, Frick makes its own compressors but employs condensers and evaporators from Güntner, said Pillis.
The LCCS places the RDC units – which could be adiabatic, plate-and-frame, dry or evaporative – directly above the evaporators. Condensed liquid is subcooled in liquid supply vessels, which feed the evaporators.
The LCCS eliminates centralized condensers, high-pressure receivers, ammonia storage vessels, low-liquid supply lines and wet return lines, according to Frick. There is no liquid ammonia in the engine room or in piping leading to the condensers or from the evaporators.