Freor and propane scores for Coop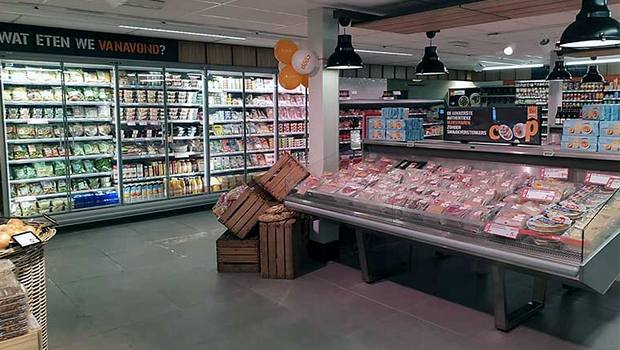 Commercial refrigeration equipment manufacturer Freor has kitted out a new Coop store in Nieuw-Dordrecht with a range of propane cabinets operating with its Hydroloop refrigeration system.
A range of propane-based equipment was supplied including Vesta QB stainless-steel self-service display counters, IDA spot merchandiser, Jupiter low front multidecks, Pluton Space semi-verticals, Erida upright freezers and Leda Compact 290, Freor's newest freezer islands.
The Freor Hydroloop is said to offer an energy efficient alternative to traditional centralised supermarket refrigeration. It enables plug-in refrigeration equipment to be connected through closed-cycle liquid pipes to an external liquid-cooled system. Only one loop is required for both medium and low temperature display cases.
Environmentally-friendly propylene glycol solution is used for heat removal. Excess heat can also be used to warm up the shop during cold weather or to warm up water.
The system at the Nieuw-Dordrecht store works with Carel's Boss Mini monitoring system.
Based in Vilnius, Lithuania, Freor claims to be the only manufacturer of commercial refrigeration equipment in the Baltic countries supplying a range of refrigeration solutions for the retail food industry. Products are manufactured at two plants – a 16,000m2 factory in Vilnius, and a 10,000m2 facility in Belarus.