Engie CO2 heat pump in EU heat recovery project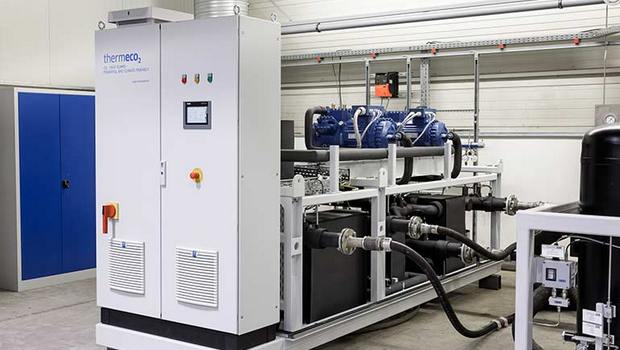 Engie Refrigeration's CO2 heat pump is to play its part in a ground-breaking EU pilot programme on heat recovery.
A ThermeCO2 heat pump will be installed at BS Energy, an energy supplier in Braunschweig, as part of the ReUseHeat pilot programme of the European Union.
Launched in 2017 for a four-year period, ReUseHeat will showcase replicable models enabling the recovery and reuse of excess heat available at urban level, with the aim to increase energy efficiency of district heating and cooling systems in cities across Europe.
The Braunschweig project in centred in the new Heinrich der Löwe district, which is currently being developed on the grounds of a former barracks. Around 600 living units will be supplied with waste heat from a nearby data centre. This makes it possible to create a low-temperature heat network, which is also being set up at present. Three other demonstration projects are being carried out in Madrid, Nice and Berlin.
Engie acquired the CO2 high temperature heat pump unit from the insolvency assets of Hafner-Muschler Kälte- und Klimatechnik last year. Its Thermeco2 HHR 360 CO2 high temperature heat pump will be deployed in the Braunschweig residential area. It will use cooling water from the data centre with a temperature of 25°C to create hot water with a temperature of 70°C. This generates a heating capacity of 370kW, which is then fed into the local heating network of the new city district.
In order to meet increased heat requirements in winter, the local heating network will also be connected to BS Energy's existing district heating network. In the summer months, the data centre will receive additional cooling.
The heat pump was delivered at the end of March, with Engie Refrigeration also being responsible for its maintenance in the coming years. During the first few months, the residential estate will be supplied from the district heat connection. Integration of the data centre will take place during the year, so that it will be possible to use waste heat for heating purposes from next winter. The project will run until the end of 2021. Afterwards, all four demonstration projects from Braunschweig, Madrid, Nice and Berlin will be analysed and evaluated, and the results will be published by the EU in a final report.