EcoChill's CO2 System Addresses New Zealand Dairy Industry's Challenges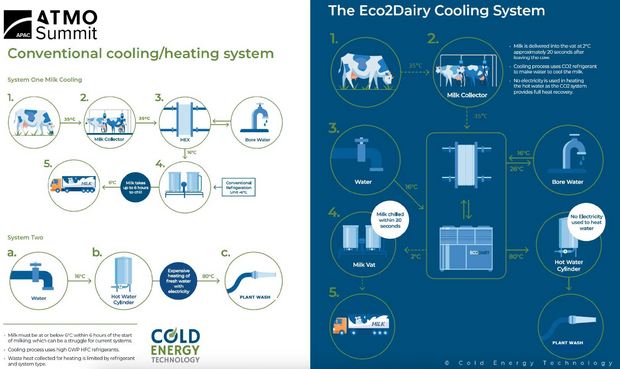 EcoChill's on-farm CO2 cooling and water heating system for dairy farms could realize significant savings, presented Matthew Darby during ATMO APAC.
New Zealand contractor EcoChill says retrofitting local dairy farms with its patented ECO2Dairy on-farm CO2 (R744) cooling and water heating system could reduce the country's total emissions by 3.7% while also realizing significant operational savings for farmers.
EcoChill is a New Zealand-based commercial and industrial contracting business, which created Cold Energy Technology for the development of refrigeration equipment.
According to Matthew Darby, Managing Director and Founder of EcoChill and Cold Energy Technology, using CO2 refrigeration in dairy farms, is "Better for milk, better for the farmers and better for the planet." Multiple retrofit case studies have shown significant savings in both direct and indirect emissions, as well as in refrigerant and system operating costs, Darby said.
Dairy Industry Lags Behind
New Zealand's economy is underpinned by its large dairy sector, explained Darby in his presentation. However, Darby realized in 2009 that this sector had not changed much in the previous 45 years. Approximately 65% of New Zealand's on-farm refrigerant bank still comprises the high-GWP R404A refrigerant used with conventional direct expansion (DX) systems – even today.
About 14 years ago, a dairy farmer and friend of Darby's approached him with a problem: the poor performance of his farm's cooling equipment. Darby initially declined to get involved, but the persistent friend eventually swayed him into sitting down to discuss the challenges.
These challenges included:
Cooling compliance – ever-changing regulations and requirements
Emissions – global pressure to reduce carbon impact
Refrigerant –

HFC

phase down threatening the refrigerants currently used by most dairy farmers
Energy – need to reduce energy consumption for sustainability targets; also challenge with inconsistent power supply
Costs – refrigeration makes up around 30% of the dairy farmers' energy costs
As New Zealand is reliant on global supplies and imports of refrigerants, they are at risk of global price increases driven by the HFC phase down – regardless of the status of New Zealand's own local phase down efforts. The local price of a carbon unit under the New Zealand Emissions Trading Scheme (ETS), is also driving "intolerable risk" as it has nearly tripled in the past two years. This has a huge impact on the cost of refrigerant, especially high GWP refrigerants like R404A.
How does it work?
The ECO2Dairy system combines the two processes (heating and cooling) from traditional R404A DX systems into one. The CO2 system makes ice during off-peak times and uses this to cool the milk, delivering it into the vat at 2°C (36°F) only 20 seconds after leaving the cow. Additionally, this CO2 system also transfers its heat to the water, negating the need for electricity for hot water production. (See image below for full process detail.)
Case studies show significant savings
The first unit was installed in 2017 as a test on a farm in Waiuku, New Zealand, with 425 cows. Results from installing ECO2Dairy showed improved system performance and increased milk quality, said Darby. In the past five years since installation, the farmer has seen a 35% decrease in power consumption and a 61% reduction in total emissions, he added.
In 2021, Stalker Farm with a 600-cow herd also installed an ECO2Dairy system. Here, a very modern, three-year-old R404A system was replaced. Since the retrofit, the farm uses 32% less energy, he said, adding that the return on investment is estimated at only three years. Darby calculated that over the 15-year lifespan of the system, the farmer can expect to save NZ$439,000 ($274,877; €270,063) on energy and NZ$556,500 ($348,450; €342,347) on refrigerant (based on leakage rates of 15% per annum).
According to Darby's calculations, retrofitting New Zealand's dairy industry with ECO2Dairy (or a system of similar performance), could result in a 37% reduction of on-farm energy consumption. This would amount to an HFC usage reduction of 412,500kg (909,407lbs) and savings of 263,250 metric tons of CO2e per annum or 1% of New Zealand's total energy production, meeting 3.7% of the country's total emissions targets.