Dürr thermea sees growing market for industrial CO2 in Asia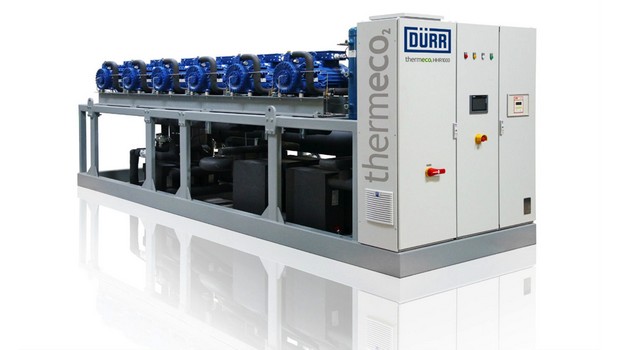 Dürr thermea is seeing increasing demand for its industrial CO2 heat pumps in the Asian region.
Amid increasing interest in natural refrigerant-based systems as a means of complying with HFC phase-down requirements, world-leading heat pump manufacturer Dürr thermea is seeing growing opportunities for their industrial CO2 heat pumps in the Asian region.
Dürr thermea, a Germany-based subsidiary of large industrial conglomerate Dürr AG, manufactures high-temperature heat pumps. It focuses on industrial applications and its product line also includes refrigeration units and compressed air dryers.
"Our compressor racks range from one to six compressors," Frank Glaser, Dürr thermea Sales and Project Manager, said, "depending on the required performance rating. Total heating capacity ranges from 50 kW to 1.5 MW."
In 2009, the company successfully completed the test rig operation of the world's first CO2 high-temperature heat pump with 1,000 kW of heating capacity. It then began supplying CO2 heat pumps, chillers, and compressed air refrigeration dryers globally in 2011.
As of March 2017, Dürr thermea had sold 54 large-scale industrial CO2 heat pumps and 12 compressed air dryers in 12 different countries.
"In total, our 66 machines supply 35 MW of heating and cooling power. We are number one in the world for total installed power of industrial sized CO2 heat pumps," Glaser said.
Growing Asian industrial CO2 market
Glaser noted that Dürr thermea was anticipating strong growth for CO2 use in Korea as well as the Asia-Pacific region at large.
"Last year we sold our first heat pump in the Korean market. We are confident that this market will grow due to the good ratio between electricity and gas for heat pumps overall."
Glaser also commented on two recently completed projects in China. The first was for a Volkswagen production factory in Qingdao, where they replaced heat pumps on two automobile production lines that previously used R134a.
"We were able to show that using CO2 instead of R134a would increase heat pump performance by 40%. Also, payback for the cost premium of the system would only be 12 months due to the system's increased efficiency."
"At the end of the day," Glaser continued, "these efficiency and performance statistics convinced Volkswagen to purchase two of our CO2 heat pumps for use in two of their automobile production lines".
The two machines are responsible for providing up to 1MW of heating and supply up to 70 degrees Celsius of heated air.
The second project in China was for a mobile sludge dryer. The machine's source is ground water and uses a CO2-to-air heat exchanger to supply hot water at 90 degrees Celsius.
Just the beginning for CO2 awareness in Korea
Glaser says that though the majority of its business is in Europe, the company is now focused on growing in Korea and is optimistic about the growing CO2 market in this region.
"There are definitely doubts and concerns regarding the use of CO2, because of its high operating pressures," Glaser said.
"However, there are advantages, such as our thermeCO2 heat pumps' ability to create both cold and hot power simultaneously through our heat-cold-coupling technology."
"For instance, we can provide cold water at 6-12°C and hot water at 110°C at the same time!"
Glaser commented that though there is already widespread awareness in Europe among end users of the use of CO2, that awareness is just beginning in Korea.
"In Europe, there is certainly an awareness of the use of CO2 in the market overall from people who are interested in buying large-scale heat pumps. But in Korea, it is only the beginning."