Deutsche Bahn calls on manufacturers to board CO2 MAC train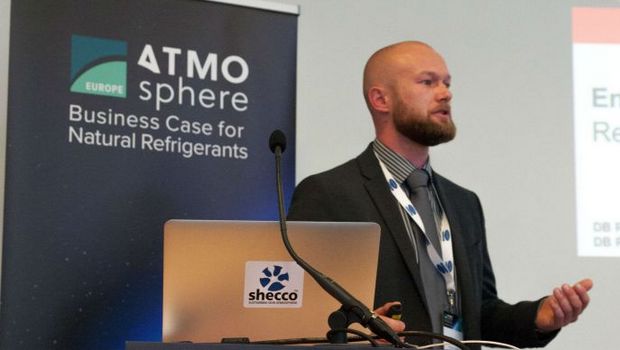 At the ATMOsphere Europe conference in Berlin, Germany last week, Martin Hasnik called on manufacturers at to help Deutsche Bahn meet its goal for air conditioning in new trains to use natural refrigerants by 2020.
Hasnik is a project manager for technology management and development at RegioNetz Verkehrs GmbH ('RNV'), a small wholly-owned subsidiary of DB Regio, the rail arm of Deutsche Bahn for regional transportation.
"We issue a clear call to corporate partners," said Hasnik, during the transport session of the natural refrigerant conference. The world's second-largest transport company and Europe's largest railway operator and infrastructure owner explained how it is already testing and using CO2 mobile air conditioning in some trains.
The first DB Bahn train to be fitted with CO2 air conditioning was a Siemens VT642 train, in Chemnitz (Saxony) in 2016. Since then the company has carried out a few more projects with a CO2 air-cycle system.
The innovative HVAC project has produced good results so far. Energy savings are about 10% compared to the HFC R134a used previously, Hasnik said during the session.
Apart from the environmental and energy-saving benefits of these systems, Hasnik cited other important reasons for the German rail company to make the switch:
The use of CO2 eliminates the 'dependence' on costly

HFC

refrigerants R134a, R407c and R404a;
Integration of an innovative and patented air distribution system;
Reduction of operating and maintenance costs;
Technology transfer to other vehicles possible.
Support needed
Even with these good results and a clear direction towards CO2, the rail company still lacks enough suppliers of air-conditioning systems for trains.
Two manufacturers that presented during the transport session, Faiveley and Konvekta, are currently working with DB on the CO2 MAC project.
Konvekta has had some success outside of DB with CO2 MAC in buses in Germany and Austria. "The vehicles with CO2 in operation are roughly 100 vehicles," Michael Sonnekalb of Konvekta told the audience during the event.
Despite this success, Sonnekalb noted that barriers remain to making CO2 a reality. "We don't sell to the end user but the bus manufacturer, so he won't see the lifecycle cost but the manufacturing cost," he said.
Lutz Boeck of Faiveley argues that MAC remains a cost-senstive marketplace.
"We would like to offer such solutions in 2020," Boeck said. "Costs are significantly higher than for the R134a [air-con] system" that many train operators throughout Europe are currently using.
Faively is working also in Scandinavia on train AC and heating systems as well.
If more big train operators went CO2 and government offered incentives for these systems, it could help bring this technology to market.
"It would be nice to have incentives from the government, similar to the ones you have for stationary equipment" in Germany, said Konvekta's Sonnekalb.